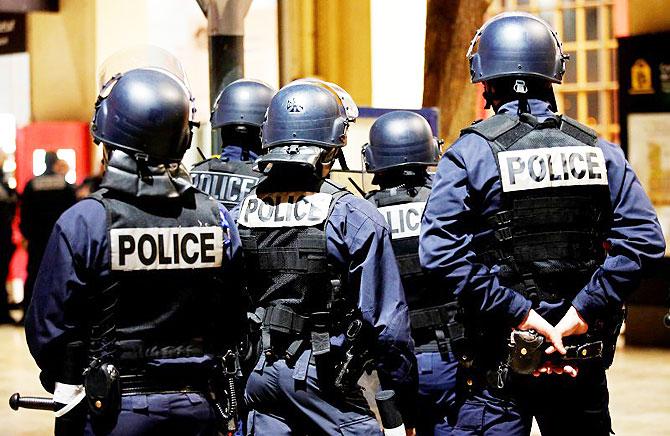 IMAGE: French riot policemen attend a drill at the Marseille railway station, in France in preparation of security measures for the UEFA 2016 European Championship. Photograph: Jean-Paul Pelissier/Reuters
Paris security forces will receive reinforcements to protect fan zones during Euro 2016 soccer matches held in the French capital, the city's police force said on Thursday.
Police chief Michel Cadot's office released a statement after Le Point magazine reported that Cadot had recommended the EiffelTower fan zone be closed during games played at stadiums in the city and its outskirts.
France, which remains in a state of emergency after militants killed 130 people on November 13 in assaults across Paris on cafes, at the national Stade de France stadium and a music hall, hosts the month-long championship from June 10 to July 10.
About 2.5 million spectators are expected for 51 soccer matches involving 24 teams in games played at 10 stadiums across France. There will also be fan zones for crowds watching games on giant TV screens in cities, including at the EiffelTower, where up to 100,000 people are expected on match days.
Security experts and police officials have said protecting those areas will be the biggest challenge due to a lack of resources.
Aware of the pressures on the capital's police force to secure fan zones and stadiums, a security committee had "immediately reinforced the resources that will be available to the police chief ... to ensure an optimal level of security at all these sites," Cadot's office said.
Police officials have told Reuters that security officials were worn out after having to contend with militant attacks, violent street protests and a migrant crisis.
"The police chief did express his reservations and asked to close the EiffelTower fan zone during matches at the Parc des Princes and Stade de France," Stanislas Gaudon of the National Police Alliance Union told TV channel iTele.
A source inside Paris's City Hall also confirmed Cadot's initial recommendation.
Islamic State militants have threatened a campaign of bomb attacks on large crowds in France, the head of the DGSI internal intelligence said on May 19.
The interior ministry has said some 90,000 police, soldiers and private security agents will be deployed to ensure the safety of the tournament.