'Right now both of us have busy schedules meeting our sporting commitments'
'I am going to be with Sania to celebrate her No 1 ranking'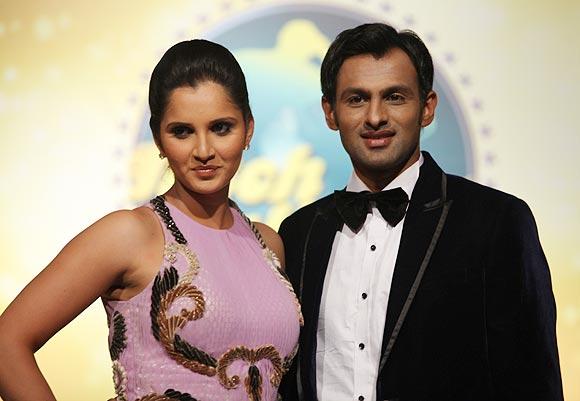 Pakistan allrounder Shoaib Malik left for New Delhi to join in the celebrations of his wife Sania Mirza securing the World No 1 ranking in international doubles tennis after winning the Family Circle Cup with Martina Hingis as partner.
Malik before leaving also brushed aside reports about parenthood being on the cards for him and Sania.
"I am going to India to be with my wife and join her in the functions being held all over India to celebrate her becoming the World No 1," Malik said.
Malik also said that since he and Sania had a very busy professional life at present parenthood was not on the cards.
"Right now both of us have busy schedules meeting our sporting commitments.
"I am trying to make a comeback to the Pakistan team.
"We try to spend as much time together as our commitments allow us," he said.
The allrounder who has not played for the national team since last year is being tipped to make a comeback soon after the new national selection committee indicated it was searching for a experienced allrounder to fill in the important gap in the limited overs team.
Malik said he was very proud of his wife's achievements in world tennis and her becoming world number one was also an inspiration for him to get back into the Pakistan team.
"I have always been proud of Sania's achievements for her country and she is also a role model for many tennis players and fans in Pakistan," he said.
"I was very happy to learn about her getting the World number one spot as she has been working hard on her game for years now," he added.