True to his reputation, local lad Pankaj Advani entered the semi-finals of the IBSF World Snooker Championship, defeating Belgium's Peter Bullen 6-2, in Banaglore, on Friday.
Advani will meet Wales's Lee Walker, who caused a major upset, defeating former World snooker champion Thepchaiya Un-Nooh of Thailand 6-2.
Played in front of fairly packed KSBA auditorium, the quarter-final got off to a flying start, as Advani powered by a break of 62, clinching the opening frame 71-7. But he conceded the next frame, in which his opponent crafted a break of 123.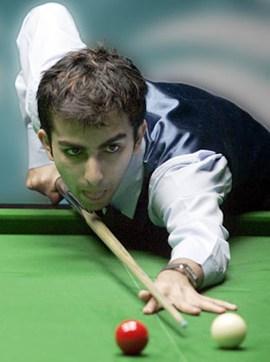 The third frame followed a similar path, but was decided on superb snooker by Bullen. Advani failed to hit the colours on the cushion and as a result it left him out of the contention to claim the frame.
At 1-2, it appeared that Advani was down and out, but he engineered a break of 62 in the fourth frame to make it 2-2.
An excellent break of 47 in the fifth frame seemed to rejuvenate Advani and he quickly claimed the hard-fought frame 67-50.
The next three frames were all about Advani, as the seven-time world champion dominated from the start of each frame.
The ace Indian cueist got off to a perfect start in the sixth, as he fashioned a break of 63, winning the frame 70-9.
Advani won the seventh frame 69-16.
Bullen tried fighting his way back into the game but was unable to get the crucial colours. And when Advani constructed a break of 43 in the eighth frame, it was all over for the Belgian cueist.
Iran's Hossein Vafei Ayouri also stormed into the semi-finals, defeating Ireland's Brendan O'Donoghue 6-2.