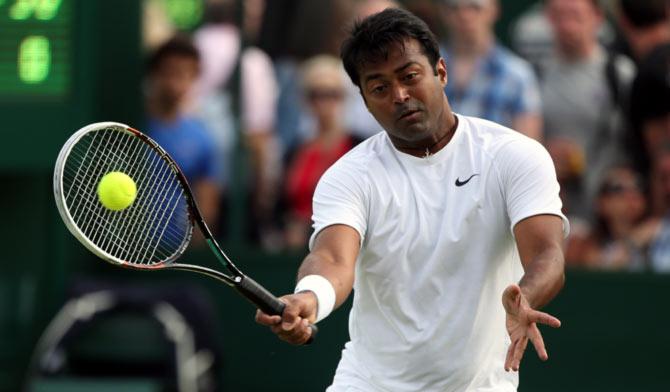 Veteran Indian tennis star Leander Paes began the 2017 season and his partnership with Andre Sa on a disappointing note as they crashed out of the Chennai Open with a straight sets defeat against rising stars Divij Sharan and Purav Raja in Chennai.
Paes and his 111th partner were sent packing 4-6 4-6 in 67 minutes by Sharan and Raja, who enjoyed a successful 2016 season with four Challenger level titles and silently broke into top-70.
Both Raja and Sharan are establishing themselves as force to reckon with as they look for their third ATP World Tour title at a home event.
Paes, at age of 43 was relatively quick and played a few amazing points but lack of practice with new partner going into season-opener proved to be his bane.

On the other side, Raja and Sharan were exceptionally sharp, especially left-hander Sharan, who stood like a rock at the net and also served superbly.

Sharan also impressed with his reflexes as he found a few jaw dropping volleys. The winners stood out with their returns as they did not give much room to their opponents to dictate points.

"It's an amazing win with Paes across the court," Sharan said.

"It's tough to play Indian players. He is legend of Indian tennis. We played against a great team. I am sorry guys, but it was our day," a humble Raja said after the win.

"It's just first match and we look forward to next matches," he added.

The Indo-Brazilian pair saved a breakpoint and then a decisive point on Sa's serve in the third game with Paes sending down a sharp volley between the two Indian players.

Paes was sharp at the net and also served well but Sa, who arrived here only yesterday, struggled to pick up volleys, half volleys and also miscued strokes.

Sharan hit a crushing forehand service return winner on Paes' serve and then Sa sent a volley out to hand the opponents chance to break.

Sharan was quick to take the chance as he found a volley winner past the Brazilian on the breakpoint.

Left-handed Sharan came out to serve for the first set. At 15-15, a desperate Paes found a heart-stopping lob winner near the baseline to put pressure on the rivals but Sharan was up to the mark, responding with well controlled serves to take the set.

Conceding a break in the first game of the second set was not what Paes and Sa needed but the Brazilian lost his serve with Sharan yet again playing the crucial points extremely well.

The Delhi boy served out the next game at love to take a 2-0 cushion. The match was slipping out of the hands of Paes and Sa and they needed to break back.

However, Sa again struggled to hold the fifth game and soon they were gasping 1-5. Paes held his own while serving to stay in the match and played two great strokes to have rivals 0-30 when Raja came out to serve.

They created two break chances and converted second to keep themselves alive. Andre managed to hold this time and the Indo-Brazilian pair had reeled off four games on the trot and the fans were loving the duel.

Sharan, who was the most consistent of servers tonight, did the job for his side with a clean 10th game, closing the match with an ace.