'His contribution has been enormous. But the time has come to realise his time is over.'
'There should not be any regret for him. You cannot just keep playing for records.'
Former Davis Cup captain Jaidip Mukerjea says veteran Leander Paes' ouster from the Davis Cup squad is a step in the right direction.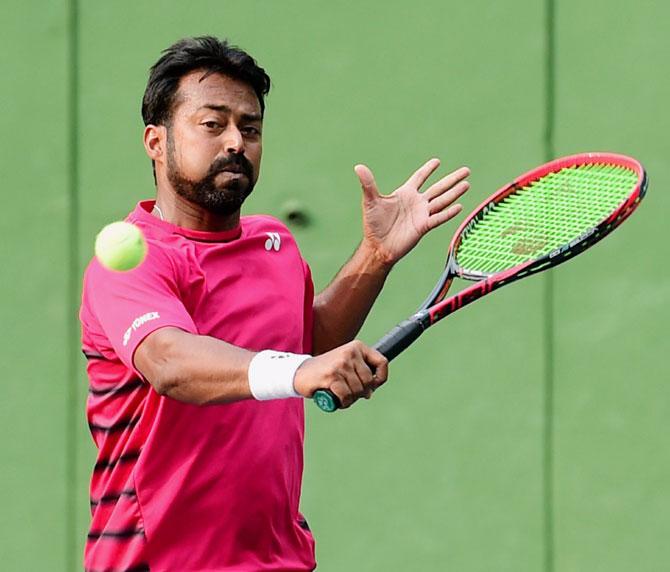 IMAGE: Leander Paes during a training session in Bengaluru. Photograph: PTI
Former Davis Cup captain Jaidip Mukerjea on Thursday termed Leander Paes' unceremonious ouster as sad but said it is a step in the right direction.

"He's no spring chicken, the writing was on the wall for him. It feels hurt for the fashion in which he was dropped. But there has to be a fall guy (Mahesh Bhupathi)," the veteran said in Kolkata without naming the Indian non-playing captain.

Paes' bid for a record 43rd Davis Cup win was halted abruptly after Bhupathi picked a higher-ranked Rohan Bopanna ahead of the 18-time Grand Slam champion for the Asia-Oceania Group 1 Davis Cup fixture, starting in Bengaluru on Friday.

"His contribution has been enormous. But the time has come to realise his time is over. He has had enough, and going through controversy since Rio Olympics.

"Whoever was selecting the team should have told him unofficially, keeping the future in mind. May be the AITA people should have told him as well," said the 74-year-old, hailing the rationale behind the sacking.

Referring to Paes' tally of 42 wins in doubles, a joint record with Italy's Nicola Pietrangeli, Mukerjea said one should not keep playing for records.

"He has played highest number of Davis Cup matches for India in a career spanning over three decades. There should not be any regret for him. You cannot just keep playing for records. He does not have any regular doubles partner at national level. Maybe he will try another shot for a mixed doubles title in a Grand Slam."

Paes was axed for the first time in 27 years after he arrived in Bengaluru from Mexico having clinched a doubles title in the US$ 75,000 Challenger tennis tournament last week.

Third seeds Paes and Adil Shamasdin of Canada outplayed Luca Margaroli of Switzerland and Calo Zamperi of Brazil 6-1, 6-4 in the final.

The choice was between Bopanna and Paes and with 29 spots separating the duo, Bhupathi went in for the 24th ranked as compared to Paes' 53rd.

"With all due respect, it was on the cards. You cannot drop Bopanna as his ranking is much higher. But I'm sad at the way it has happened. But it's a good decision. You want three singles players. In case one gets injured."