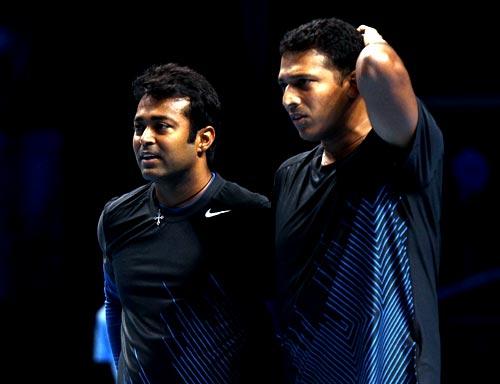 They were a top pair on court and off it their differences had reached epic proportions but after so many years, Leander Paes finds it irrelevant to dissect what went wrong between him and his friend-turned-foe Mahesh Bhupathi.
"Mahesh (Bhupati) and me are two completely different people -- we function differently, we do our business differently, we conduct our friendships differently, we decide to do things our own way, and I am not going to tell you who is right or wrong, because neither of us are right or wrong," the 43-year-old Paes said during an event, in Mumbai on Saturday.
"We just have own styles, but we respect each other for what we have achieved as individuals and that will always be there, from my side I know 100 per cent, I will respect that man for what I have created with him," Paes made it clear about what he felt about Bhupathi.
The veteran was speaking at a session 'How to win an Olympic medal' at the Tata Literature Live at the NCPA.
Paes and Bhupati have together won three Grand Slam titles, while Paes has also won an Olympic Bronze medal at the 1996 Atlanta Games.
Paes also went into flashback mode and recalled one of his most memorable wins with Bhupathi.
"I had mentioned to him in 1990 June when I was playing Junior Wimbledon, that we could be world beaters together and he laughed off because he wasn't even in the main draw for juniors, we were sharing a room then."
"And after getting the match-point (1999 Wimbledon men's doubles final), when I looked at him (Mahesh), you should have seen the difference in our faces. One kid (Paes himself), who knew all along that this was his life's journey and he had just achieved it and the other kid (Mahesh) looking like what the hell we have just done," Paes recollected.
Image: Indian tennis stars Leander Paes and Mahesh Bhupathi
Photograph: Clive Brunskill/Getty Images