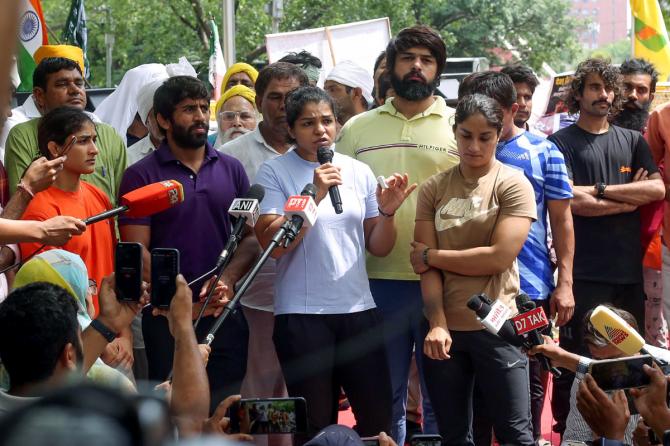 Former wrestler Yogeshwar Dutt, who is also a member of the executive committee of the Indian Olympic Association (IOA), on Monday accused the opposition parties of misusing wrestlers and attempting to tarnish the image of the country. He also said that the opposition parties pushed the wrestlers to break protocols.
Several ace grapplers including Bajrang Punia, Vinesh Phogat and Sakshi Malik have been protesting at the Jantar Mantar accusing the Wrestling Federation of India (WFI) chief Brij Bhushan Sharan Singh of sexual harassment and demanding his arrest. Many prominent opposition parties have lent their support for the wrestlers' protest.
"Opposition parties misused the wrestlers and tried to tarnish the image of the country. Wrestlers' demand was to register an FIR and it has been registered and police are investigating the matter," Dutt told mediapersons in Chandigarrh.
Dutt said that the wrestlers were pushed to break all protocols.
"They were mistaken because everyone is aware of the protocols that must be followed during significant events such as the inauguration of the New Parliament Building yesterday. In terms of investigation, the police have already filed complaints, and the committee is expected to submit its report soon. It is clear that the athletes were pushed to violate all protocols," Dutt said.
The Delhi Police have registered an FIR against organisers of the wrestlers' protest and their supporters for violating law and order in connection with the scuffle that broke out at Jantar Mantar on Sunday.
The FIR was registered at Parliament Street Police Station.
India's Olympic medallist wrestlers Sakshi Malik, Bajrang Punia alongwith Vinesh Phogat and Sangeeta Phogat were detained by Delhi Police on Sunday while attempting to march to the new Parliament building where they planned to stage a demonstration.
FIR has been filed under Indian Penal Code (IPC) sections 147, 149, 186, 188, 332, 353, Section 3 of the PDPP Act, said Delhi Police.
"We provided all possible facilities to the wrestlers protesting at Jantar Mantar for the past 38 days. But yesterday they violated the law despite all requests made to them. They were detained and released by the evening," said Suman Nalwa, Deputy Commissioner of Police in Delhi.
The Delhi Police have also removed the tents of the protesting wrestlers at Jantar Mantar.
"Yesterday, protesters violated the law despite all requests made to them. That is why, the ongoing sit-in protest has been made to conclude. If the wrestlers give an application for sit-in protest again in future, they will be permitted for the same at a suitable place other than Jantar Mantar," said Delhi Police.
On Sunday, the protesting wrestlers who were trying to march towards the new Parliament from their site of protest at Jantar Mantar were stopped and detained by the security personnel. The Delhi Police earlier said that "unsocial elements" won't be allowed to enter the national capital to ensure smooth conduct of the inauguration ceremony of the new Parliament building, said DCP, Sonipat East Gaurav Rajpurohit.
The wrestlers had announced that they planned to hold a women's Maha Panchayat in front of the new Parliament as part of their protest against Wrestling Federation of India (WFI) president Brij Bhushan who has been accused of sexually harassing women wrestlers. Seven women wrestlers have filed a police complaint against him.
India's ace grappler Bajrang Punia on Sunday said that it was unfortunate for our country that Wrestling Federation chief (WFI) Brij Bhushan Singh was present during the new Parliament building inauguration on Sunday.
"It is unfortunate for our country that the new parliament building was being inaugurated and an accused was present," said Punia.
He also further stated that he was the last one to get released after being detained for almost 10 hours. The police earlier released Vinesh Phogat, Sakshi and Sangeeta.
"There is no point in going home till we get justice. For 10 hours we were detained in different police stations. I was the last one to get released," he added.
Earlier Bajrang Punia tweeted accusing the Delhi Police of keeping him in custody without committing a crime.
"Till now the police have kept me in their custody. Not telling anything. Have I committed any crime? Brij Bhushan should have been in jail. Why have we been kept in prison?," Punia wrote in his tweet.
Sakshi Malik also took to Twitter to express her disappointment. "It takes seven days for Delhi Police to register an FIR against Brij Bhushan who sexually assaulted the wrestlers and it didn't even take seven hours to register an FIR against us for peacefully protesting. Has dictatorship started in this country? The whole world is watching how the government is treating its sports persons," tweeted Olympic medallist wrestler Sakshi Malik.
Delhi Police on May 12 filed a status report on the application moved by woman wrestlers in an alleged offence of sexual offence levelled against WFI Chief and BJP MP Brij Bhushan Sharan Singh. The court was also informed that a Special Investigation Team (SIT) has been formed to investigate the matter.