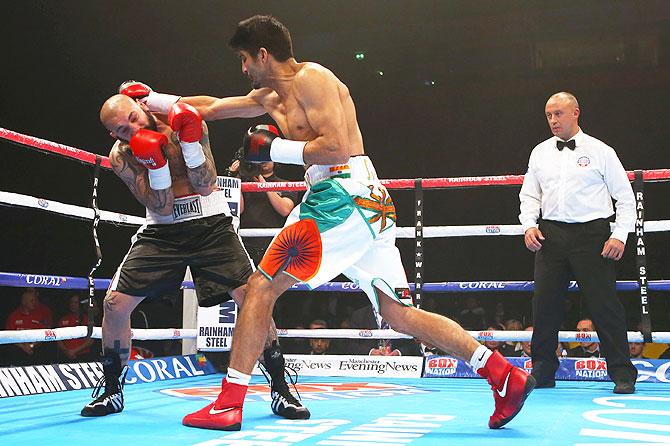 IMAGE: Vijender Singh lands a punch on Samet Hyuseinov during their Middleweight bout at the Manchester Arena on Saturday. Photograph: Dave Thompson/Getty Images
Star Indian boxer Vijender Singh continued his remarkably dominant run on the professional circuit, notching up a third successive knockout win by thrashing Bulgaria's Samet Hyuseinov in less than two rounds in Manchester on Saturday.
Barely 35 seconds into the second round of what was to be his maiden six-round contest, Vijender cornered Hyuseinov with a flurry of combination punches to force the referee into stopping the bout and give the Indian a win via Technical Knockout.
The former Olympic and World Championships bronze-medallist thus continues to remain unbeaten, since making his debut in October -- all three of his wins being knockouts in under three rounds.
"I practice a lot when I am sparring so that helps me finish it off early in an actual contest," Vijender said after the bout.
With a sizeable crowd in attendance to cheer him on, Vijender walked in to the beats of 'Singh is King' and made sure that the song resonated well after he was done with the job inside the ring.
For all his tall talk before the bout, Hyuseinov looked intimidated the moment Vijender stepped in. While the Indian moved around confidently and had the Bulgarian on the backfoot with his telling jabs and piercing left uppercuts, Hyuseinov seemed clueless on whether to go all out or stick to counter-attack.
Vijender made full use of his longer reach and his opponent's confused strategy to complete a dominating first round. The 30-year-old then seemed in a hurry to finish off the contest in the second round and he did exactly that by simply pummelling Hyuseinov.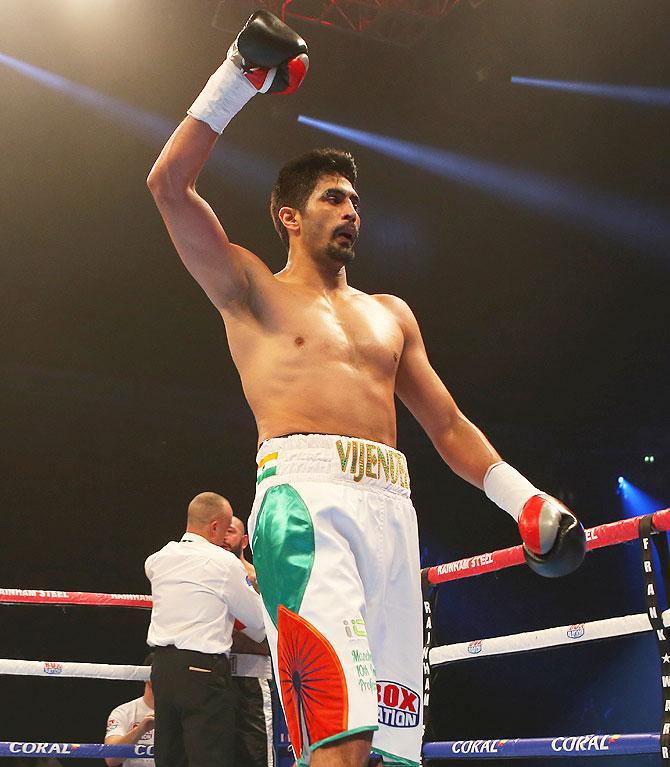 IMAGE: Vijender Singh celebrates after beating Samet Hyuseinov on Saturday. Photograph: Dave Thompson/Getty Images
The assault was so fierce that referee stepped in to rescue the cowering Bulgarian, who had promised to send Vijender back to India "beaten and broken."
The Haryana-lad, on his part, had vowed to answer inside the ring and he did that in style to walk away a deserving winner.
Vijender had beaten Sonny Whiting and Dean Gillen in his previous two bouts, both of which were to be four-round contests but lasted barely over two rounds.
Vijender, who is returning to India on Sunday night for a break, said the victory was a Christmas present for all his fans.
"I am happy to get another knockout win and for making it 3-0. For this bout I had done a lot of physical hard work and have improved my technique also which helped to win against an opponent who had the experience of playing 14 bouts," Vijender said.
"I was confident of beating him. My win is a Christmas gift for all my Indian friends and fans and I am feeling happy that I am ending the year on a winning note," he added.
Hyuseinov was the most experienced opponent that Vijender has faced so far and the Bulgarian had spoken about making that count in Saturday's bout. After the comprehensive triumph, Vijender said it gave him immense satisfaction to outpunch his big-talking rival.
"Before my bout everyone was asking me that your opponent speaks a lot about giving you tough time in the ring but I think now my punches have replied to him and it will be lesson for future opponents also," he said.