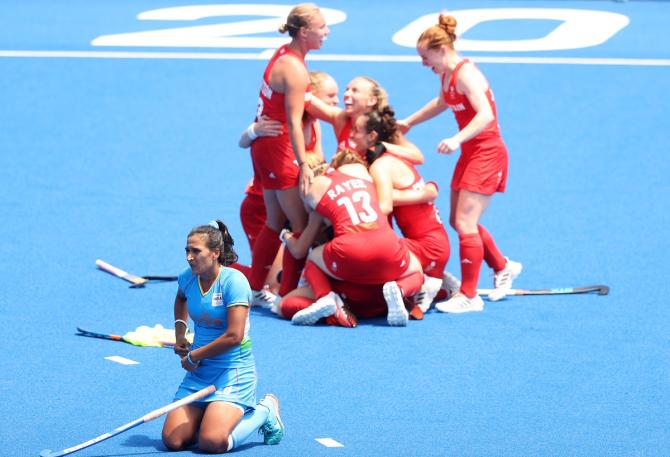 India's women's hockey team put up a spirited display against Great Britain but it wasn't enough to prevent them from going down 3-4 in the Olympics bronze medal play-off, at the Oi Hockey Stadium in Tokyo, on Friday.
They fought back from two goals down and even took the lead but were beaten by a better side on the day.
Gurjit Kaur scored twice from penalty-corners after India were 0-2 down and Vandana Katariya put them ahead at the end of the second quarter to raise hopes of an upset victory over the world No. 4-ranked team.
However, despite a stellar display by goalkeeper Savita Punia, goals from Hollie Pearne-Webb and Grace Balsdon in the third and fourth quarter put paid to their hopes of winning India's first medal in women's hockey at the Games.
Sarah Robertson scored Britain's second goal after they forged ahead with a bit of luck through Elena Rayer, whose shot was deflected into goal by India's defender Deep Grace Ekka.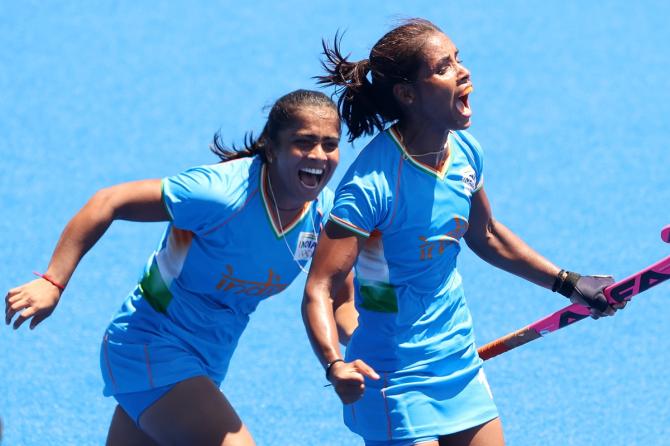 The Indian women, who surpassed all expectations by entering the semi-finals of the Games for the first time, played their hearts out, but found it difficult to counter their speedy opponents, who won the title at the last Games in Rio.
Great Britain, with some good positional play and passing, dominated the first quarter but were denied success by goalkeeper Punia. However, they deservedly forged ahead in the first minute of the second.
Forward Elena Rayer made a good run down the right wing, evaded a couple of Indian defenders, entered the circle and pushed towards goal. The ball deflected off Deep Grace Ekka, who tried to cut off the threat and went into goal.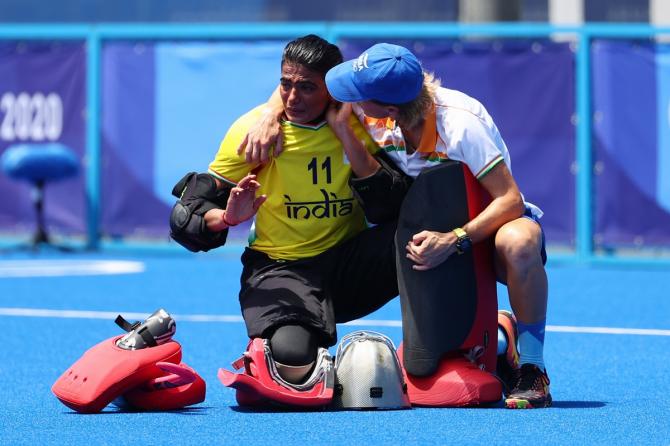 Three minutes later India were down to ten players as midfielder Nisha was booked for a stick check. Britain made good use of the numerical advantage and increased the lead through Sarah Robertson, who scored with a good finish.
Down by two goals, India pulled one back in the next minute through Gurjit Kaur after back-to-back penalty-corners.
She was again on target a minute later from a penalty-corner, flicking the ball to the left of goalkeeper Maddie Hinch.
Exchanges got hot and fast thereafter as the Indians attacked the British goal. With a minute to go for half-time, they made it 3-2 when Vandana Katariya scored her fourth goal of the tournament.
Britain started the third quarter on a frenetic pace and equalised after an unsuccessful penalty-corner attempt though their skipper, Hollie Pearne-Webb.
Like the third quarter, Britain went on the offensive from the start of the fourth and scored through Grace Balsdon in the 48th minute, after forcing three successive penalty-corners, to go 4-3 up.
The Indians pressed hard to find the equaliser but without success.