Ace drag-flicker Sandeep Singh continued his goal-scoring spree as he scored a hat-trick to guide favourites India to a convincing 6-2 win over France in an enthralling match of the men's hockey Olympic Qualification tournament, in New Delhi on Tuesday.
It was India's third consecutive win.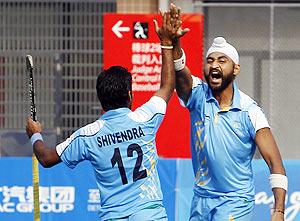 India earned four penalty corners in the match and Sandeep (9th minute, 30th, 37th) converted two of them while scoring his third from a penalty stroke.
Shivendra Singh (4th), S V Sunil (39th) and Tushar Khandker (62nd) score the other three goals for the home team, while Lucas Sevestre (35th) and Fabien Magner (57th) converted two penalty corners for the French team.
By virtue of Tuesday's three goals, Sandeep has moved to the top of the goal-scorers tally with seven strikes.
With this win, India moved to the top of the men's pool with nine points from three matches while France dropped to the third spot on goal-difference even though they have same six points as second-placed Canada.
India will play 14th-ranked Canada in a crucial round-robin match on Wednesday, while France (18th ranked) will be up against a lowly Italy.
Even though the 10th ranked Indians were by far the better team on display on Tuesday, they lacked co-ordination in the midfield and were guilty of losing possession of the ball in search of quick attacks.
The Indians also missed plenty of scoring chances.
India, however, started from where they left in the last game and sounded the board as early as in the fourth minute of the match when Shivendra tapped home from left after receiving a pass from Sarvanjit from inside the circle.
The Indians doubled their lead five minute later when Sandeep beautifully converted the home team's first penalty corner.
Thereafter, both India and France looked in a hurry to gain control of the midfield and in the pursuit failed to generate threatening moves.
It took India 30th minute to make the scoreline 3-0, courtesy a penalty stroke conversion by Sandeep after Sunil was brought down inside the D by a French defender.
The Frenchmen, however, pulled one back just at the stroke of the half time when Lucas Sevestre gleefully converted their second penalty corner.
The Indians started with vengeance after the resumption of play and scored two more goals within a span of three minutes.
Two minutes into the second half, India scored its fourth goal when Sandeep completed his hat-trick, converting the hosts' second penalty corner. Two minutes later an unmarked Sunil scored India's fifth goal from a counter attack.
France reduced the margin in the 57th minute from their third penalty corner which was accurately converted by Fabien Magner.
The Indians seemed in no mood to sit back on their comfortable lead as they found the opposition net eight minutes from the hooter through Tushar, who scored from top of the D with a powerful hit after being fed by Sarvanjit.
India are now well in course for a place in Sunday's final as two draws in their next two games will be enough to see them through.
Earlier, Canada dished out a clinical display to thrash minnows Singapore 15-1, while Poland walloped Italy 7-2 in the other men's matches of the day.
Stunned 2-3 by 19th ranked Poland in their last match, Canada came out with purpose and scored goals at will against a hapless Singapore, which came in as a late replacement for the United States.
Penalty-corner specialist Scott Tupper scored four goals, including a hat-trick, while Mark Pearson also finished with four strikes for the Canadians, ranked 14th in the world.
Captain Rob Short also scored thrice, while Philip Wright, Sukhwinder Gabbar Singh, Richard Hildreth and Matt Guest were the other goal-getters for Canada.
For Singapore, Bin Kai Chia scored the consolation goal.
In the other match, Miroslaw Juszczak scored twice for Poland while Szymon Hutek, Szymon Oszyjczyk, Karol Majchrzak, Waldemar Raraj and Artur Mikula scored a goal each in their 7-2 drubbing of Italy.
Daniele Malta scored both the goals for the Italians.