'I will put every effort to ensure that I keep creating history'
'It was very difficult but I have got a great mentor because of whom, I am here'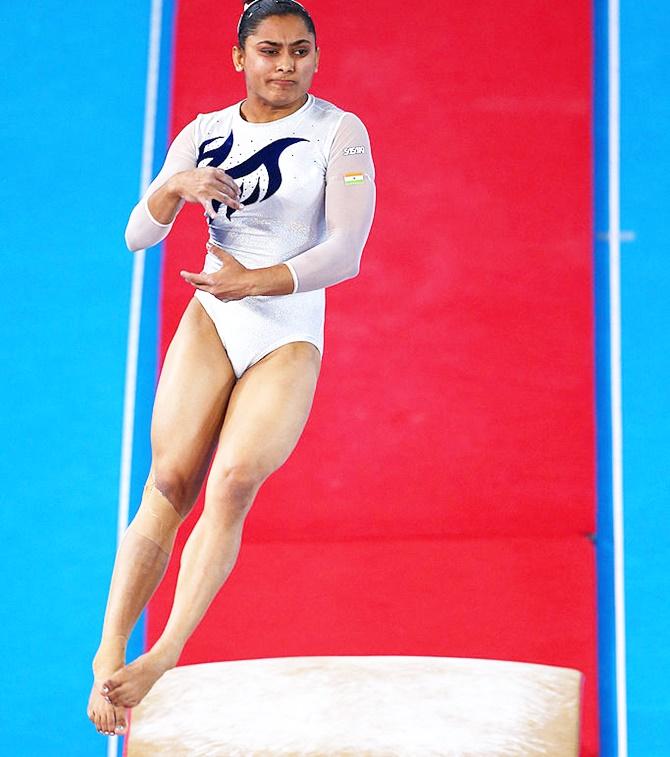 IMAGE: Dipa Karmakar of India competes in the Women's Vault. Photograph: Robert Cianflone/Getty Images.
Ecstatic and exhausted in equal measure after becoming the first Indian woman gymnast to qualify for the Olympics, Dipa Karmakar, on Thursday, said she would look to continue scripting history wherever she competes.
- Dipa Karmakar creates history, first Indian gymnast to qualify for Olympics
"Since the time I started gymnastics, I wanted to compete at the Olympics. I had dreamt that one day I will compete at the Olympics and bring laurels for my country. I have qualified for the Olympics now," 22-year-old Dipa told reporters with a sigh of relief.
"I will put every effort to ensure that I keep creating history. My target was to qualify at any cost and I am happy that I have achieved my target," Karmakar said after returning to the country from Rio de Janeiro, to a hero's welcome.
Asked about the effort she had to put in to qualify for the Olympics, the Tripura girl said, "I wanted to qualify for the Olympics last November during the World Championships (where she finished fifth). But that did not happen (a podium finish was required).
"So, my target at the Rio Test event was to qualify at any cost and I am happy that I have achieved my target," Dipa said.
She booked her Rio ticket with a gold medal in an Olympic Test event. The 22-year-old garnered a total score of 52.698 points in the Olympics qualifying event to book a berth for artistic gymnastics in Rio Games to be held in August.
Apart from being the first Indian woman, she also became first from the country to qualify for the quadrennial extravaganza after 52 long years.
Since the country's independence, 11 Indian male gymnasts have taken part in the Olympics (two in 1952, three in 1956 and six in 1964).
Her first vault, the much difficult Produnova, gave Dipa 15.066 points, the highest among the 14 competitors. But a poor show in the uneven bars took her points down as she collected 11.700, the second worse among the 14 participants.
The Tripura girl secured 13.366 and 12.566 points in beam and floor exercises.
"It was very difficult but I have got a great mentor because of whom, I am here. Without him nobody would have known my name," she said.
"To achieve something, you have to take a risk. I am thankful that special arrangements were made at the IG Stadium where I practiced and learnt Produnova vault. Otherwise it would have been impossible, so I am thankful to the Sports Authority of India," she said.
Despite all the accolades, the Tripura girl sought to remain grounded and said she does not consider herself as a star sportsperson.
"I am not a star. Nothing like that. I don't think on those lines. My job is to keep working harder and bring laurels for the country. Doing well in the Olympics is my immediate target now," she said.
Asked if the infrastructure provided by the Sports Authority of India would be good enough for her to prepare for the Olympics, Dipa said, "I think the infrastructure is good here. At the Indira Gandhi Indoor Stadium, we have the foam pit (to protect gymnasts from dangerous falls) and SAI has promised me to bring a new springboard in two days time.
"Now my job is to focus on my training and do well at the Olympics. To do that, I need help from everyone in my endeavour."