The Serb reached the final in 19 of the last 20 tournaments he played, the last 17 at a stretch.
Graphic: Reuben NV/Rediff.com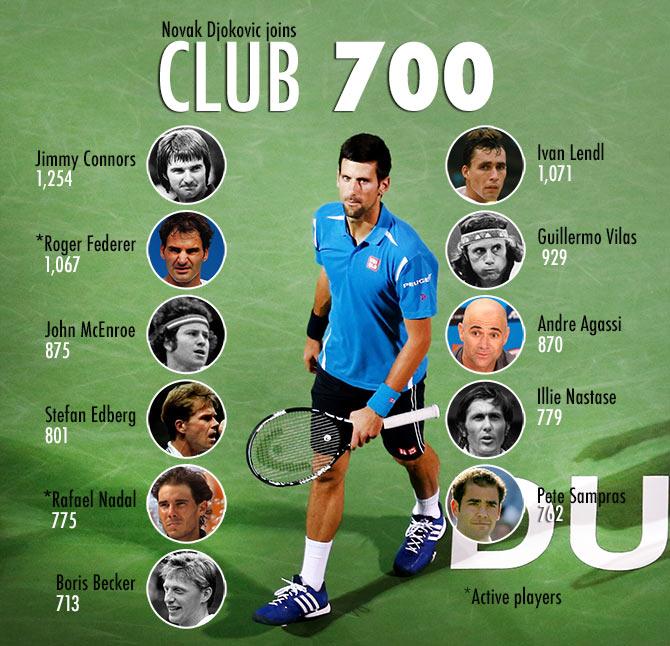 IMAGE: Novak Djokovic and other members of the 700-club

Novak Djokovic joined an elite list of players when he defeated Malek Jaziri 6-1, 6-2 to reach the quarter-finals of the Dubai Open.
The result made the Serb only the 12th -- third among active -- player in the Open Era (since 1968) to win 700 career singles matches.
In a sport as physical and rigorous as tennis, to win as many matches is an incredible achievement.
In Djokovic's case, it adds to an already enviable list.
Since scoring his 600th match victory -- defeating Milos Raonic in the final of the Paris Masters in November 2014 -- Djokovic has piled up an enviable 100-6 record, winning four of the five major titles during the time.
Further, he reached the final in 19 of the last 20 tournaments he played, the last 17 at a stretch.
He looked set to equal Ivan Lendl's record of 18 straight final appearances, in 1981-82, in Dubai. Unfortunately, he dropped out of the Dubai Open on Thursday night, citing an eye injury.
Djokovic has enough chances these coming weeks to better his current coach.
Boris Becker won 713 singles matches in his career, and, on current form, Djokovic should get past that mark this hardcourt season, with Masters Series events in Indian Wells and Miami coming up.
It is a matter of time before he gets past Rafael Nadal (775).
Getting close to Roger Federer (1,067) -- the only other active player in the 700-club -- will take a lot of time, since Federer is still playing.
Considering Djokovic is only 28, it is very much a possibility.