'At this stage I play because I love my tennis. I'm very passionate about being an athlete and the lifestyle it incorporates.'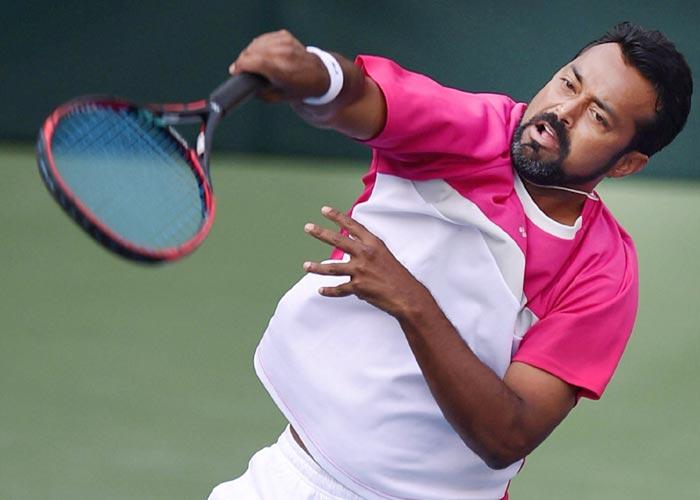 IMAGE: Leander Paes. Photograph: PTI

He might have been overlooked from India's Davis Cup squad, but tennis great Leander Paes is no mood to quit the game as yet.

Paes said he has nothing to prove to anyone at this stage of his career.

Paes, who made his Davis Cup debut at the age of 16 in 1990 and holds the record for the most Davis Cup doubles wins with 42 victories (equal to Nicola Pietrangeli), was dropped by new non-playing captain Mahesh Bhupathi for the tie against Uzbekistan earlier this year.
But despite the snub by his one-time partner, the 44-year-old veteran has not lost hope and by his own admission, he is still playing the game for the love of it.

"I don't have to prove anything to anyone, my career speaks for itself. At this stage I play because I love my tennis. I'm very passionate about being an athlete and the lifestyle it incorporates," Paes said in Kolkata, on Thursday.

"I have done my best when I have played for my flag. It gives me great joy and pride to play for my country, city and people. Even when I played individually, like in the Wimbledon I have played for my flag.

"On a global stage you always want to see your flag fly high. You speak about your country. I have been very blessed, I have had a long career and now I play with a lot of passion," he added.

Paes, who has won eight doubles and 10 mixed doubles Grand Slam titles, has high hopes with his current men's doubles partner Purav Raja and said it is special for him to play alongside a fellow-Indian at this stage of his career.

The 44-year-old veteran tennis star is presently languishing at the 62nd spot in world rankings, which is something he is eager to improve.

"I picked up Mahesh (Bhupathi) when he was a young boy and we became world champions. Then Rohan (Bopanna) and I did very well in the Davis Cup (against Serbia) where we came back from two sets down to win a five setter," Paes said.

"We (Purav and I) have played two tournaments together and now we have to work very hard. There are many things we have to work on. Give me five weeks time and I will tell you how good is Purav. I am doing homework now.

"I have three months left to lift my ranking and for me to play with an Indian boy is very special especially at this stage of my career. By November end I will finish my season and then I will see about next year. I really want to do well to get my ranking back on top," he added.

Talking about his future plans, Paes said that he will announce a new mixed doubles partner next year in his bid to claim a 19th Grand Slam title.

"I will have a new mixed doubles partner and don't be surprised of you see me on podium in 2018," Paes said.

Paes last paired up with Swiss great Martina Hingis in the mixed doubles and the duo enjoyed considerable success on the court.