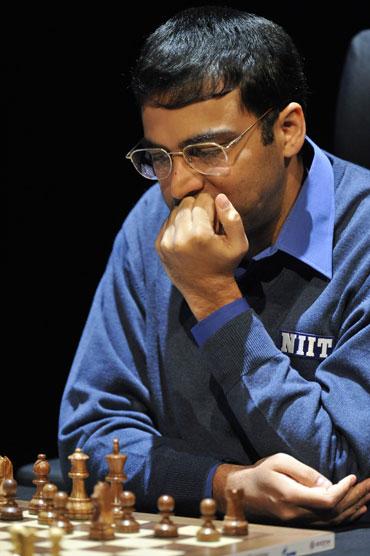 Former World champion Viswanathan Anand played out yet another easy draw, this time against Levon Aronian of Armenia, to remain joint-second after the end of the seventh round in the Norway chess tournament, which is part of the Grand Chess Tour, in Stavanger, on Wednesday.
Following the draw, Anand inched up to 4.5 points out of a possible seven and can now look up to his final white game in the tournament, slated against the lowest-ranked player, Jon Ludvig Hammer of Norway.
It turned out to be a dull day in the tournament as all the five games in the 10-player round-robin ended in draws, leaving the overnight positions intact.
Veselin Topalov continued to lead the field on six points out of a possible seven, while Anand and Nakamura follow him 1.5 points behind.
The only chance for Anand is to try and win the next round against Hammer and then it will be a showdown with Topalov in the last round.
Anish Giri of Holland, on four points, is the only other contender for a podium finish as he holds sole fourth place.
Fabiano Caruana of Italy, Maxime Vachier-Lagrave of France and Aronian share the fifth spot with three points each, a half point adrift of World champion Magnus Carlsen of Norway and Russia's Alexander Grischuk.
Hammer, on two points, is placed last.
For Anand, the black pieces have worked well as he hasn't been in any serious trouble in any of his black games in the ongoing event.
Aronian chose the English opening and Anand countered with a popular variation that led to an easy equality.
A couple of minor pieces changed hands early and although Aronian secured the Bishop pair, Anand always seemed to have enough counter play. As it turned out, the game ended rather abruptly in the early middle game with both players deciding to repeat the moves.
In the post-game conference Aronian thought he could continue but the ensuing positions were not promising.
The first game to end in the day was Carlsen's, who played a quick draw with Vachier-Lagrave after employing a very risky opening. In the confession box Carlsen said that this was a "don't-try-this-at-home opening".
Vachier-Lagrave said he was "completely taken by surprise", and he chose the most principled continuation that involved a double pawn sacrifice. The players started repeating moves in the heat of the battle and this game too ended prematurely.
In the day's other games, Caruana was pushing for something but his efforts were neutralised by Topalov, Hammer signed peace with Giri and Nakamura could not use his white pieces to advantage against Grischuk.
Results, round 7: Levon Aronian (Arm, 3) drew with V Anand (Ind, 4.5); Maxime Vachier-Lagrave (Fra, 3) drew with Magnus Carlsen (Nor, 2.5); Hikaru Nakamura (Usa, 4.5) drew with Alexander Grischuk (Rus, 2.5); Veselin Topalov (Bul, 6) drew with Fabiano Caruana (Ita, 3); Jon Ludvig Hammer (Nor, 2) drew with Anish Giri (Ned, 4).
Image: Viswanathan Anand