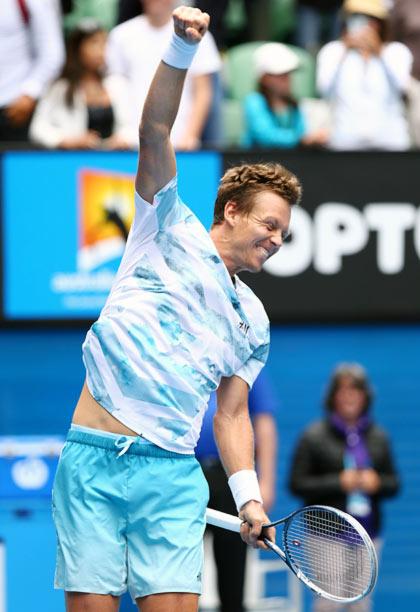 Nobody, but nobody, beats Tomas Berdych 18 times in succession. Not even world number three Rafael Nadal.

The Czech seventh seed advanced to the semi-finals of the Australian Open on Tuesday with a clinical 6-2, 6-0, 7-6(5) victory over the 14-times Grand Slam champion to end his own personal streak at 17, tied for the record as the longest losing streak to another player on the ATP Tour.
- PHOTOS: Nadal knocked out by Berdych

Bjorn Borg beat Vitas Gerulaitis 17 times in succession, while Ivan Lendl had the same winning streaks over both Tim Mayotte and Jimmy Connors.

Gerulaitis also lost 16 times in succession to Connors and when he ended the eight-year streak in 1980, the American famously quipped "nobody beats Vitas Gerulaitis 17 times".

"Well, no," a smiling Berdych told reporters when asked whether anyone beat him 18 successive times. "I heard that already," he added, still with a wide grin. "I did (win), so..."

The 29-year-old Czech was brutal in the first two sets against Nadal, who was under-prepared for the season-opening Grand Slam after illness and injury had blighted the second half of 2014.

Since he won his ninth Roland Garros title last June, the Spaniard has played 17 matches, four of which were at Melbourne Park, and he had said continually he doubted he was ready either mentally or physically to seriously challenge for the title.

Sensing this could be his opportunity to end the losing streak, Berdych pounced.

"I start with the plan that I set up before the match and it turns that it was the right one," Berdych added. "I was able to keep going with the same plan all the way through the match.

"But until the last point, you can't think about anything else. You have to really keep going till the last one.

"When it's done, it's done. It's great. But there is a still long way to go in this tournament and I need to be ready for it."
Image: Tomas Berdych celebrates winning his quarter-final match against Rafael Nadal.
Photograph: Cameron Spencer/Getty Images