Gukesh aims to keep improving after becoming India No 1 without sponsorship support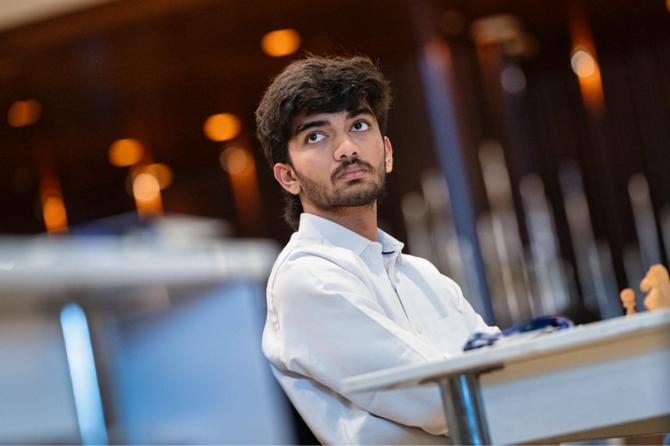 A day after D Gukesh ended his idol Viswanathan Anand's 37-year reign as India's No. 1 chess player, the 17-year-old looked committed and keen as ever to keep "improving" his game.
Gukesh, who is here for the Asian Games camp and an invitational tournament, added on Saturday that he has overcome the disappointment of losing to Norway's Magnus Carlsen in the World Cup quarterfinals recently.
Sounding practical and looking forward to the upcoming events, Gukesh told PTI in an exclusive interaction here that, "It's (loss) already quite sometime back, it's fine there are things ahead and I'm focussing on that."
For someone, who is without a sponsor and manages his finances through prize money and crowd-funding, Gukesh says the WestBridge Anand Chess Academy has played a huge role in his success ever since he came on board in 2021.
"(Viswanathan) Anand sir congratulated me; undoubtedly he has played a huge role in my career. He has been my biggest hero and idol. I hope he is happy with my achievement.
"I feel good, it's a good achievement and I'm happy about it," he said about becoming India No 1, leapfrogging Anand (Elo 2754) by four points in the latest FIDE rating list that came out on Friday.
"My trainers and WACA (WestBridge Anand Chess Academy) played a huge role in shaping me up for this," added Gukesh, who was the youngest chess player to cross an Elo 2750 surpassing Norway's Carlsen.
The teenager from Anand's home city Chennai now sits at No. 8 in world rankings with the duo being the only two Indians inside the world's top-10.
R Praggnanandhaa, with 2727 points, is No.3 in India and ranked No.19 in the world.
The recently-held World Cup in Baku saw an unprecedented four Indians making the quarterfinals out of which Praggnanandhaa grabbed the Candidates spot en route to becoming the youngest runner-up in the history of the tournament at 18 years.
Four more spots are up for grabs for next year's Candidates, which will determine the next challenger for the World Championship title against reigning champion Ding Liren.
The FIDE Grand Swiss Tournament 2023 in Isle of Man in October-November will offer two spots, while one each will be given to the 'FIDE Circuit winner' and 'Best by Rating'.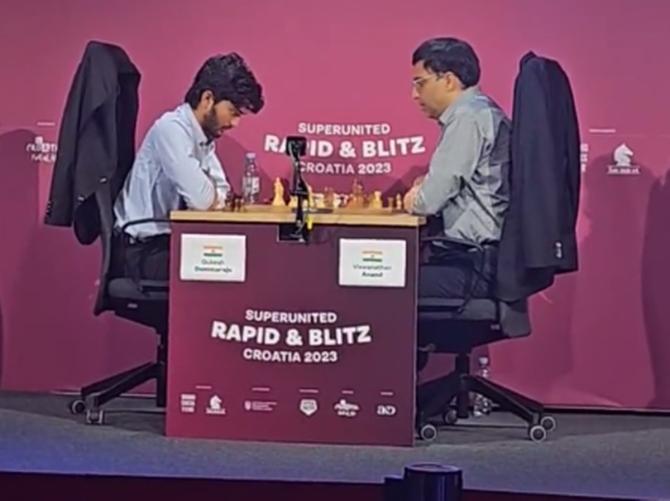 FIDE Circuit is similar to the Tour points in tennis and ratings keep fluctuating, with the cut-off score decided at the end of the year. Gukesh is leading at this point in time.
On whether securing a Candidates spot is his next target, Gukesh replies, "Let's see, who knows what will happen. Right now, my goal is to just improve my game and see where it takes me. Now, just focusing on improving my game," he said.
"It's nice to know our legend (Anand) complimenting us and we hope to keep up to his expectations. We will try our best and then see," he said when asked whether someone from the current crop could become the first Indian after Anand to emerge world champion.
Coming from a family of doctors where no one ever played "serious chess" makes Gukesh all the more special. He became India's youngest Grandmaster at 12 years, seven months and 17 days in January 2019. Praggnanandhaa held the previous record.
Such was his dedication to the sport that his parents decided to stop Gukesh from attending school full-time after Class IV.
The father-son duo travelled across the world chasing the final GM norm as Gukesh played 276 matches in 15 months when he got his final GM norm.
"My parents sacrificed a lot, and hopefully the sacrifices feel justified. I hope to make them even more proud. I watched my parents play, I got interested and things started happening on their own," Gukesh said.
His father Dr Rajini Kanth is an ENT surgeon who stopped practising in 2017-18 and started accompanying Gukesh to tournaments around the world on shoe-string budget.
The only source of income was his mother Dr Padma Kumari, an assistant professor in microbiology.
"Till 2021, he was taking online or special classes and just went to school for exams. But last two years, he hasn't even done that. He has cleared class IX. He has to appear for the 10th exams whenever that's possible," said his father Dr Rajini Kanth.
As for managing their expenses, he said, "My income is negligible and I do visit hospital and do surgeries whenever I'm in Chennai."
"Till date we don't have sponsors. It's mainly managed with our savings, his prize money, some cash awards from school and funding from our batch-mates," he lamented.
"Microsense chipped in with some help for two years when he was about to become GM and when we played lots of events abroad and finding (it) tough to manage (sic)," he said.
"But since 2021, WACA has been supporting him with training, which in itself is quite expensive... and so (a) bit of relief."
"Recently with Gukesh improving, they (WACA) are supporting a lot with personal trainer and all. So, WACA is the main support recently along with school cash awards. But till date mainly its Gukesh's prize money," he said.
Gukesh has a packed calendar ahead. He will fly to Germany for the Armageddon chess tournament in Berlin after the Invitational Rapid and Blitz meet in Kolkata.
He will then join the Indian team for the Hangzhou Asian Games later this month from where he will head to the Qatar Masters and then Isle of Man, where two Candidates spots are up for grabs.
"He hardly has any time for himself. The camp runs in two sessions -- in the morning and in the evening that runs till 7pm. Then after dinner at 9pm, he works with his personal trainer. It's like double the energy spent in a real game," said Gukesh's father.
So, is Candidates a realistic target for Gukesh?
"We're not particularly thinking about this milestone; we want him to enjoy and progress in his career. Whatever milestones come along the way, we are happy. We were equally happy with 2700 (Elo)," he said.