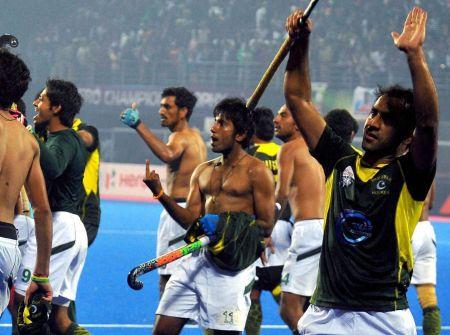 Taking strong exception to FIH's "weak" censure to Pakistani players for their obscene behaviour after beating India in the Champions Trophy semi-final, Hockey India decided that it would not host any event sanctioned by the world body until strong punishment is handed out to the offenders.
The Pakistani players made obscene gestures towards Indian fans and media after their win on Saturday but no action was taken against them by the International Hockey Federation (FIH) after their coach Shahnaz Sheikh offered an apology.
"It was a shameless and condemnable incident but the FIH took a very weak and feeble decision. It is not acceptable to us. We have made it clear to FIH that such sort of behavior from sportspersons is not acceptable to Indians," HI president Narinder Batra said.
"So we have decided not to host any FIH tournaments in India after the Women's World League Round 3 scheduled in March, which includes the 2018 Men's World Cup, if they don't take any strong action against Pakistan," he said.
Soon after their 4-3 win, Pakistani players went into a frenzy and started celebrating their victory in a wild fashion. They removed their shirts, used foul language and made obscene gestures towards the crowd and media, prompting their coach Shahnaz to come into action and take away his players.
Tournament Director Wiert Doyer, who was asked to carry out an inquiry into the matter, then spoke to the Pakistani camp and said FIH has accepted their apology. But Batra said a mere apology is not enough.
"If FIH rules and regulations permit such uncivilized behaviour then they should hold their tournaments in any other country not India because Indian culture and values don't permit such acts," the HI chief said.
Image: Pakistan hockey players react after winning the Champions Trophy semi-final game against India in Bhubaneswar
Photograph: PTI