'I was fighting. But it was all about Serena today'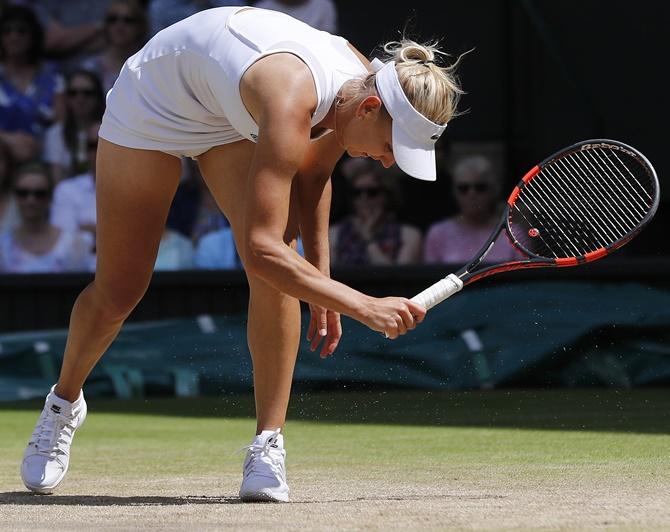 IMAGE: Russia's Elena Vesnina reacts during her match against Serena Williams. Photograph: Ben Curtis/Reuters.
After a 48-minute battering at the hands of Serena Williams on Wimbledon's Centre Court on Thursday, the last words Elena Vesnina probably wanted to hear were 'see you later'.
World number one Williams was not joking, though, as she consoled the Russian at the net, as Vesnina's consolation for a very public tennis lesson was another encounter with not one, but two Williams sisters in the women's doubles.
"Serena even told me at the net, see you later. Not long to wait," 29-year-old Vesnina, partnering compatriot Ekaterina Makarova in the quarter-finals against Serena and older sister Venus, joked.
"It is a little bit strange. But that's what it is, you know. How to learn, how to actually try to play her serve, how to return her serve. She's, like, serving 129 miles per hour in the corner, it's really difficult to read."
Unfortunately for Vesnina, her reading skills let her down for a second time on Thursday as she and Makarova were beaten in three sets by the Williams sisters.
Vesnina, a three-times Grand Slam doubles winner, had battled through to a first major singles semi but her challenge crumbled quickly as dropped her opening two service games.
She managed only 21 points in a match that shaved three minutes off the previous quickest women's semi-final of the modern era in which Dinara Safina was obliterated by Venus Williams in 51 minutes in 2009.
The Russian, the first unseeded woman to reach the semi-finals since Sabine Lisicki in 2011, never stood a chance against a fired-up Williams who will play Angelique Kerber on Saturday in a repeat of the Australian Open final.
Germany fourth seed Kerber, who stunned a nervy Williams in Melbourne to deny the American a record-equalling 22nd major title, may not want to listen to what Vesnina had to say.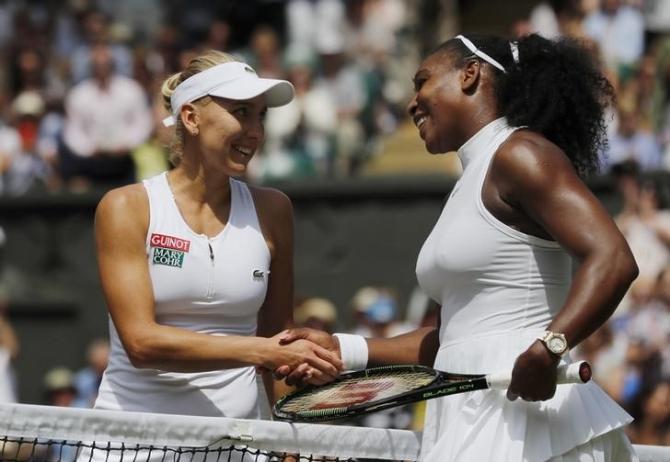 IMAGE: Serena Williams shakes hands with Russia's Elena Vesnina after their match. Photograph: Justin Tallis/Pool/Reuters.
"I felt like I had no chance today," the Russian told reporters. "I think she has now a big, big chance to win her 22nd Grand Slam title. I think she's in the right mood right now."
Asked whether it was just the Williams serve, that offered up only three points on Thursday, which was so tough, she said the American veteran has a cache of other weapons.
"Today for me was really difficult. She has one of the best forehand crosscourt returns. It's so fast, you cannot even finish your serve, then the ball's already passing you," she said.
"Of course, the mental part. She's the strongest one with the mentality to play on the big courts, the big events, finals, semi-finals, grand slams. She's the best with this."
Despite a chastening experience, Vesnina was far from downhearted, especially having risen from 122 in the rankings in February to be back inside the world's top 25 next week.
"If you're going to cry and be crazy after every loss, I think your nerves will be dead by the end of your career," she said. "For me, it's just a magical tournament. I was in the semi-final. I had good wins.
"I was fighting. But it was all about Serena today."