Nishikori has lost seven finals in a row, most recently at last month's Monte Carlo Masters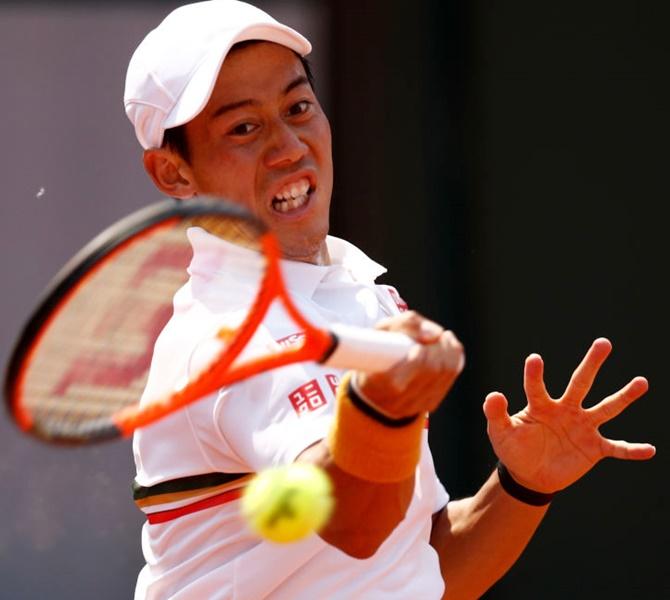 It has been a long and frustrating road back to fitness for Japan's Kei Nishikori, who will arrive at Roland Garros without an ATP title for more than two years and desperate to prove that his career has not already peaked.
For much of the last decade Nishikori has been the player most likely to bring a first men's grand slam singles title back to Asia but the 28-year-old now risks being overtaken by South Korean young gun Chung Hyeon.
Reaching the 2014 US Open final remains his best result at a major and his highest career ranking of world number four came the following year.
Since winning Memphis Open for the fourth time in February 2016, Nishikori has lost seven finals in a row, most recently at last month's Monte Carlo Masters.
The Japanese sustained a wrist injury in August that ended his 2017 season and kept him out of the first Grand Slam of the season in Australia.
He was also forced to pull out of Indian Wells in March due to illness, further hampering his progress to full fitness.
"I am fit again," the world number 24 said at the Madrid Open earlier this month.
"Well, my wrist is not 100 per cent yet, but close to playing enough tennis. I think I need couple more weeks to get used to playing on clay, as more damage to my wrist, play more spin."
"But it's not too bad."
Perhaps as a result, Nishikori's claycourt season has been hit so far despite the impressive showing at the Monte Carlo Masters, which saw him lose to 11-times champion Rafael Nadal in the final.
Days after that loss to Nadal, Nishikori retired hurt during his first match in Barcelona before losing in the second round to Novak Djokovic in Madrid and falling to the same opponent in the quarter-finals in Rome.
After losing to Djokovic for the second time in 10 days, Nishikori admitted "the third set was close, but I think he played a little better than me".
That sentiment could describe Nishikori's entire career of being close but ultimately not having the quality in the latter stages to trouble the likes of Djokovic and Nadal.
Nishikori has beaten overwhelming Roland Garros favourite Nadal on two occasions - including to claim Olympic bronze at Rio 2016 - but never on clay.
Twice a quarter-finalist at Roland Garros - most recently last year when he lost to Andy Murray – Nishikori will be hoping to go at least one stage further this time around as he looks to make a good career great.
Raonic pulls out of French Open with knee injury
Milos Raonic has withdrawn from next week's French Open with a knee injury and is targeting a return during the grasscourt season, the former world number three said on Sunday.
The Canadian has not played since losing to Denis Shapovalov in the round of 16 at the Madrid Open earlier this month and the world number 28 has seen his young compatriot rise two spots above him in the world rankings.
"It is with a heavy heart that I am withdrawing from Roland Garros. I have many great memories there, but I know I need to continue working hard to put myself in the best position when I step out on the court," Raonic posted on Twitter.
"Thank you all for your support and see you soon on the grass," the 27-year-old added.
Raonic, a French Open quarter-finalist in 2014, missed the back end of last season with the knee injury and made a first round exit at the Australian Open on his return in January.
He pulled out in the round of 16 at the Monte Carlo Masters in April after a recurrence of the problem, which has hampered his efforts to replicate the form that saw him finish runner-up at Wimbledon in 2016.
Del Potro waits to see if groin injury scuppers French Open plans
Juan Martin del Potro is waiting anxiously to see if a groin strain will force him out of the French Open, with the Argentine hoping the injury does not derail what has been one of his best starts to a season in years.
Del Potro, whose early season form has lifted him to number six in the world, retired during his third round match at last week's Italian Open after picking up the injury.
The setback, just days before the start of the May 27-June 10 French Open, was particularly upsetting as Del Potro had spent the early part of the year developing a new routine to help him overcome the injuries that have beset his career.
Del Potro put together a team in the close season that includes a trainer, doctor, psychologist and kinesiologist who studies muscle movement.
With the support the team of specialists who travel with him on the road, Del Potro reached three finals in 2018, winning two of them. The back-to-back victories in Acapulco and California included a win over Wimbledon and Australian Open champion Roger Federer in Indian Wells.
The expanded team "has not only made a difference to my tennis but also in helping rid me of non-tennis problems so I can focus on getting out on the court and winning," the 29-year-old told reporters in Buenos Aires earlier this month.
The new approach also lifted him to his highest ranking since 2010.
Del Potro knew he needed to make big changes if he wanted to return to the kind of form that earned him the U.S. Open trophy in 2009 - his only major so far.
He invited specialists to watch his training and advise him on what changes he needed to make.
That led him to focus on stretching and also to come up with a training regime that would help him to relax and improve the back pain caused by his towering 1.98-metre frame.
He also appears to have overcome a succession of wrist problems that led to three surgeries in 2014-15.