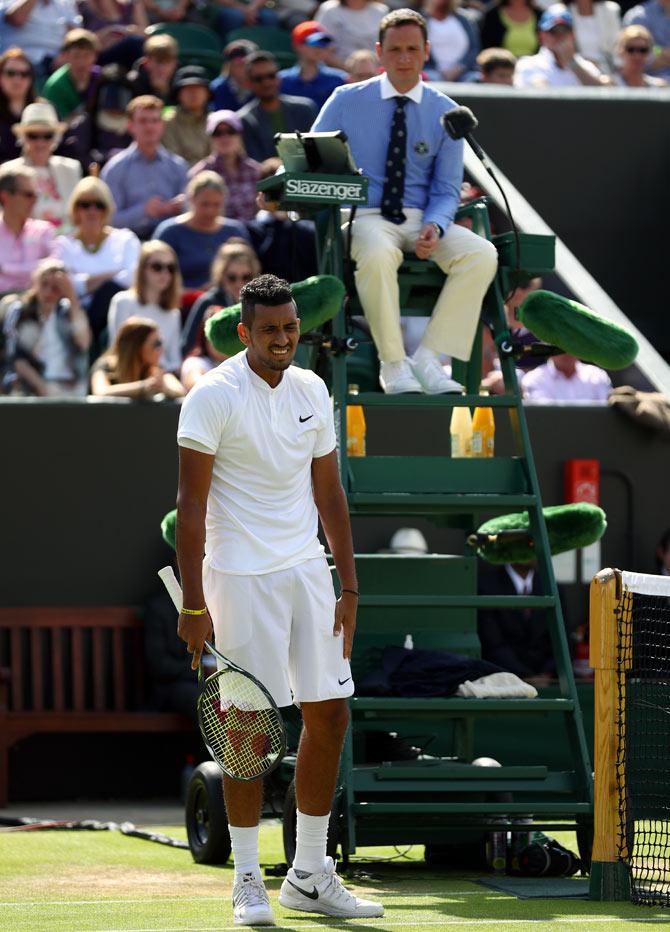 IMAGE: Nick Kyrgios argues with umpire Jake Garner. Photograph: Julian Finney/Getty Images
Nick Kyrgios was involved in a heated row in his post-match news conference after being questioned about his behaviour during his five-set victory over Dustin Brown at Wimbledon on Friday.

The Australian 15th seed received a warning from umpire Jake Garner at the start of the third set after complaining about a decision and he completely lost his head before reaching the third round with a 6-7(3), 6-1, 2-6, 6-4, 6-4 victory on Court Two.

But once again it was the 21-year-old's volatile temperament that will make the headlines.

Asked afterwards whether his antics were distracting for other players, Kyrgios lost his cool.

"What did I say to the umpire today?" he said.

When reminded by another reporter that he told American Garner he had done a "horrible job" Kyrgios ranted: "Is that bad language? Have you never said a swear word before? Have you never said a swear word in your life?

"Can you answer my question?"

At which point the reporter told Kyrgios that it was his job to answer questions.

"No, it's not. He actually asked me the question. It's his question, mate. It's his question.

"What did I say to the umpire today? So how is that going to affect another player by saying 'horrendous job'? I think you can figure that out, champ."

Kyrgios courted controversy at Wimbledon last year when he was accused of 'tanking' (not trying) during a match against Richard Gasquet, and also received a suspended ban from the ATP after an incident during a match with Stan Wawrinka in Montreal.

At one point during his match against wildcard Brown, who is one of his friends on the Tour, a member of the public told Kyrgios to stop "behaving like a baby".

But Brown leapt to the Australian's defence.

"I'm pretty sure everyone that knows Nick, knows Nick is a great tennis player," he said.

"You know that if certain things happen and there are a few bad calls, I mean, all of us have gotten upset on the court already for bad calls, especially in certain moments.

"I'm almost close to 10 years older. I was definitely not any better or worse at 21. The guy is 18 in the world. The guy is 21. Let the guy play tennis. I'm pretty sure in a few years, he will also have that sorted and going to be even better."