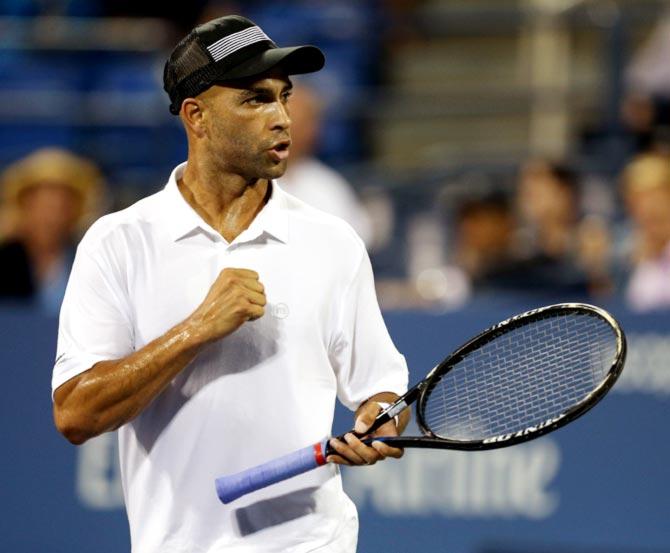 IMAGE: James Blake of the United States during the 2013 US Open. Photograph: Clive Brunskill/Getty Images
New York City Police Commissioner William Bratton apologised on Thursday to former US tennis star James Blake, who was arrested after being wrongly identified as a suspect in a fraud ring and said he is concerned over how much force is used.

Blake, who is black, was surrounded by six plainclothes officers outside a Midtown Manhattan hotel on Wednesday while waiting for a car to take him to the US Tennis Open. One of the officers slammed the 35-year-old man to the ground before handcuffing him.

The incident involving a well-known athlete revived questions over excessive police force that reverberated around the country after a series of police killings of unarmed black men that sparked sometimes violent protests.

"I spoke to Mr. Blake a short time ago and personally apologised for yesterday's incident," Bratton said in a statement. "Mr. Blake indicated he would be willing to meet with the Internal Affairs Bureau as our investigation continues."

Bratton earlier told reporters the officer who tackled Blake has been put on desk duty while the department reviewed the incident.

"I have concerns about the takedown," said Bratton, adding he has seen a video of the arrest.

"The concern we had: Was the force used appropriate, and the initial review - we believe it may not have been," added Bratton, who was appointed by Democratic Mayor Bill de Blasio at a time when he is trying to improve relations between police and minority residents of the city.

Police said Blake, at one time ranked fourth in the world, had been mistakenly identified by a cooperating witness as a suspect in a fraud ring.

Bratton said he is also concerned that no report had been made of Blake's arrest and detention, which became public after the former player reported it to the New York Daily News.

Blake told ABC's "Good Morning America" he decided to go public with the incident after discussing it with his wife and imagining how he would have felt if she had been treated in that way.

"I was furious because I thought about what I would be thinking if someone did that to my wife, if someone tackled her in broad daylight, paraded her around in a busy, crowded sidewalk in New York City with handcuffs," Blake said.

'100 PERCENT COOPERATE'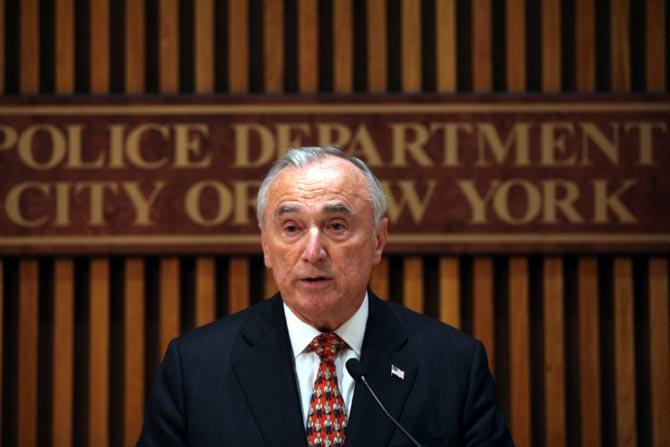 IMAGE: New York Police Department Commissioner William Bratton. Photograph: Spencer Platt/Getty Images
Blake added that he had cooperated throughout the incident with the officers, who did not immediately identify themselves as law enforcement.

"The first words out of my mouth were, 'I'm going to 100 percent cooperate. I don't want any incident or whatever,' just out of reaction from what I've seen in the media,'" said Blake, who was on his way on Wednesday to the US Open, which is being played at Flushing Meadows in the borough of Queens.

Bratton said Blake had been mistakenly identified as a suspect by a witness, adding he did not believe race influenced how he was treated by white officers.

"This rush to put a race tag on it, I'm sorry, that's not involved in this incident at all," Bratton told reporters. "That doesn't denote there's a racial angle to this at all."

The police department last year promised to revamp how it trained officers after 43-year-old Eric Garner died after being placed in a chokehold by officers who were trying to arrest him for suspected illegal cigarette sales on Staten Island in July 2014.

Garner's death was one of a string of cases in the past year involving the deaths of black men in confrontations with police - including in Baltimore, Cleveland and Ferguson, Missouri - that sparked a national debate over race and justice.

Federal data show that US police routinely use force when making stops of pedestrians, doing so in one out of every four non-traffic stops, according to a 2013 Justice Department report.

Some 57 percent of black respondents in a Pew Research Center poll last year said police do a poor job of using the right amount of force when they respond to situations, more than double the 22 percent of white respondents who reported that view.

That poll, of 1,501 US adults, including 1,082 white adults and 153 black adults, was conducted in August 2014, days after the fatal police shooting of Michael Brown in Ferguson, Missouri. The margin of error for white respondents was 3.4 percentage points and for black respondents 9.1 percentage points.