- 'It's probably been the best preparation I've ever had for Wimbledon because we have a week more on the grass'
- 'This year I feel my game is better'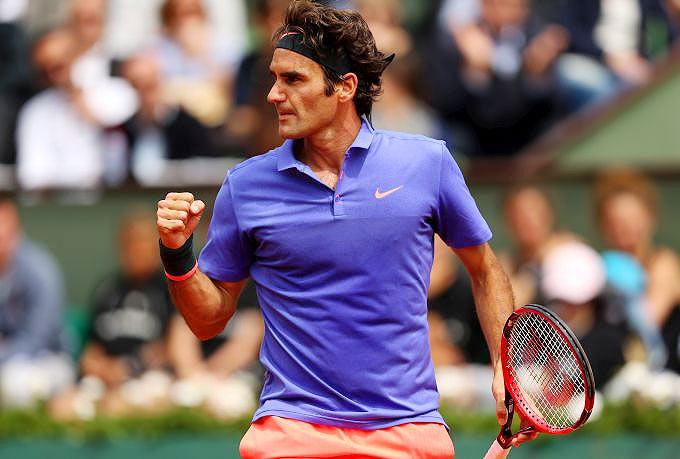 Switzerland's Roger Federer reacts. Photograph: Clive Brunskill/Getty Images

Roger Federer has not won a Grand Slam title since 2012, he is at that age when he keeps getting asked about his retirement plans, and he is about to bid farewell to another one of his contemporaries.
Rather than looking back on a stellar career that has earned him a record 17 Grand Slam titles, the 33-year-old Swiss declared on Saturday he has never felt better coming into Wimbledon.
"It's probably been the best preparation I've ever had for Wimbledon because we have a week more on the grass," Federer told reporters about the extended three-week grasscourt swing ahead of Wimbledon.
"Winning Halle has given me the extra confidence I guess it's going to take me to win this title here."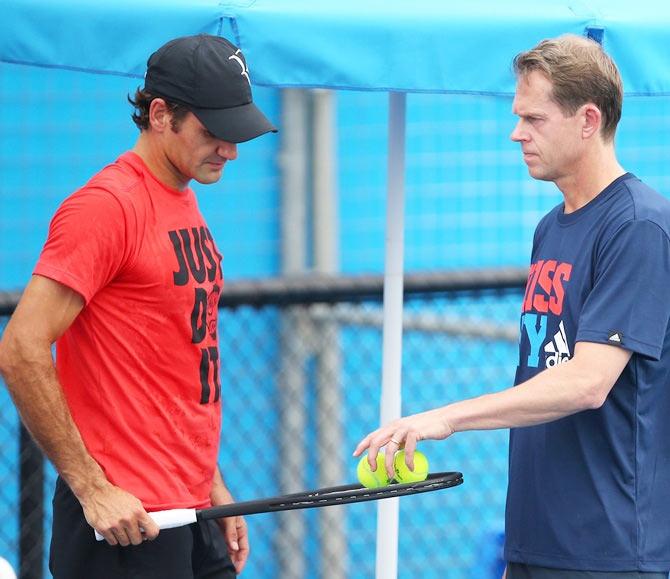 Roger Federer and his coach Stefan Edberg. Photograph: Chris Hyde/Getty Images
Twelve months ago his hopes of hoisting the gilded Challenge Cup for a record eighth time were dashed in a heartbreaking five-set loss to World No 1 Novak Djokovic.
Rather than dwelling on what he failed to achieve as a result of that defeat, Federer was more focused on what the run to the final 12 months ago taught him.
"Last year's final ... if it does something, it goes to show that I was playing well. I wasn't playing great and I (still) made the finals," said the second seed, who tuned up for Wimbledon by winning his eighth title in Halle.
"I didn't expect myself to right away make the finals. To be honest, I was still somewhat on the way back (after injury niggles in 2013). But things went faster than I thought they would."
His relationship with his co-coach, six-times Grand Slam champion Stefan Edberg, was also in its infancy but after working together for 18 months, Federer feels he is on the verge of reaping the rewards of that union.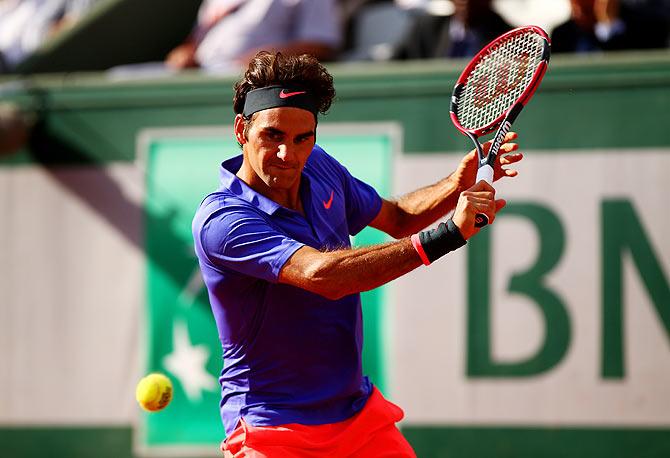 Roger Federer plays a return. Photograph: Dan Istitene/Getty Images
"This year I feel my game is better," said Federer, who also switched to a bigger-framed racquet.
"I've gotten used to the racquet. This is not the first time I'm at Wimbledon with Stefan Edberg. The work I've put in ... I feel I could really aim for Wimbledon this year. Whereas last year, it was all about getting back."
This year's event will also mark the final hurrah for 2002 champion Lleyton Hewitt, the last man to win here before the sport's Big Four of Federer, Rafa Nadal, Novak Djokovic and Andy Murray began their Wimbledon dictatorship.
While Hewitt is the latest of his Grand Slam final victims to hang up their rackets, following in the footsteps of Mark Philippoussis, Marat Safin, Andy Roddick and Andre Agassi, Federer is in no hurry to slip on the slippers just yet.
"I don't want to go there with my thoughts because the more I think about it, the closer I am to retirement," he said.
"Clearly I need to think about it eventually, but not for the moment."