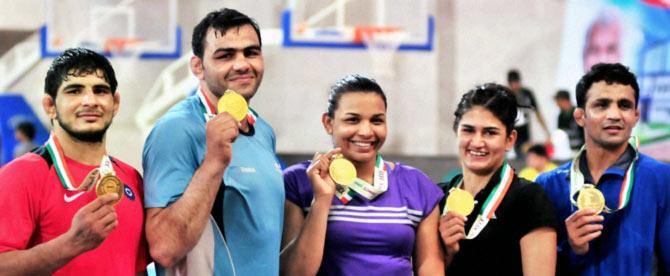 (From left to right): Wrestlers Jitendar Singh, Manoj Kumar, Suman Kundu, Ritu Malik, Raveender Singh show their medals at the 35th National Games. Photograph: PTI
Commonwealth and Asian Games champion shooter Jitu Rai opened his campaign with two medals while records continued to tumble by a heap in the swimming competition but the mood turned somber at the 35th National Games after a young netball player lost his life in a freak accident on the second day of the event in Thiruvananthapuram, on Monday.

On yet another exciting day of competition, there was gloom as well after Maharashtra's 21-year-old netball player Mayuresh Pawar died in an apparent case of drowning at a nearby beach while on his way back with the team from a practice session.

After initial reports of a cardiac arrest, the postmortem of the deceased player made it clear that he died due to drowning after falling into the waters at the Shankhumugham beach. The tragedy left the Maharashtra team shattered and it was not yet clear whether the team would continue to participate in the netball event at the Games.

On the competition front, Services Sports Control Board sprung to the top with 12 medals (8 gold, 1 silver and 3 bronze), followed by Haryana (7 gold, 2 silver and 1 bronze) and Madhya Pradesh (5 gold, 1 silver and 6 bronze).

Despite the tragedy, the show went on in other events across the state with the swimming pool offering the most exciting action for the second day running. First up was the 1500m men's event in which local favourite Sajan Prakash brought the house down by bagging the gold medal with a new meet record of 15:55.78s. The silver was picked by Sourabh Sangvekar with a timing of 16:07.12s, followed by West
Bengal's Sanu Debnath who clocked 16:27.91s.

Another record sank in the 800m women's event when Maharashtra's Akankhsha Vohra clocked 9:15.30s to break the meet record by a second. Karnataka's Malvika V (9:23.95s) bagged the silver, while Maharashtra's Monique Gandhi (9:29.93s) came third.

One more record tumbled when Sandeep Sejwal, representing Madhya Pradesh, breached his own mark to clinch the 200m men's breastroke gold with a timing of 2:13.53s. He was followed by the Kerala duo of Anoop Augustine (2:18.11s) and Arun S (2:19.73s).

Maharashtra broke their own meet record in the 4x100m women's medley when the quartet of Monique, Aditi Dhumatkar, Avantika Chavan and Jyotsna Pansare pulled off a timing of 4:04.45s.

The shooting range had some high-profile names in action -- the most prominent being Rai (Services Sports Control Board). He lived upto the moniker at least in the 50m pistol team event before settling for a bronze in the individual competition.

In the team event, Jitu combined with Om Prakash and Gurpal Singh to shoot gold with a score of 1667, way ahead of silver-medallists Punjab (1643) and Haryana (1612).

Jitu was expected to get a golden double but the pint-sized dynamo, without doubt India's best shooter internationally in the last one year, was hampered by the excruciating heat, which affected his grip on the pistol.

The shooter settled for a bronze after managing a score of 168.1 in the final round. The gold went to Karnataka's Prakash Nanjappa (190.1) followed by Punjab's Amanpreet Singh (187.4).

A prominent name, which fell by the wayside in the final round, was Samresh Jung, who was representing Himachal Pradesh in the Games.

In the women's 10m air rifle competition, veteran Anjali Bhagwat combined with Ayonika Paul and Pooja Ghatkar to clinch a gold medal for Maharashtra in the team event after the trio totalled 1241. The silver was claimed by Rajasthan's troika of Apurvi Chandela, Simrat Chahal and Hema KC with a tally of 1233, while Uttar Pradesh settled for bronze with a score of 1232 shot by the threesome of Aayushi Gupta, Shalini Chahar and Anu Tomar.

There was double delight for Maharashtra in the individual competition where Pooja snatched the gold from team mate Ayonika Paul in a shoot-off after both totalled 208.1 in the regulations shots. Apurvi Chandela added a bronze to Rajasthan's kitty with a score of 187.

In the weightlifting arena in Thrissur, Odisha shone through Minati Das, a former youth Commonwealth champion, in the 58kg women's category. She lifted 192kg (82+110) to clinch the gold ahead of Haryana's Harjeet Kaur, who lifted 191kg (84+107). The bronze went to Manipur's N Sumanbala Devi (81+103=184).

In the men's 62kg category, Chattisgarh's Rustam Narang clinched the gold with a total lift of 260kg (114+146), while Services' Swapnil Ghagre (115+143=258) took the silver.The bronze was picked by Odisha's Susant Sahu, who picked 257kg (114+143) in all.

In the men's 69kg competition, Assam's Papul Changmai lifted the gold medal after pulling off 284kg (125+159). Andhra Pradesh's N Ramakrishan settled for silver with an effort of 281kg (157+157), followed by Tamil Nadu's R Rangaraj, who lifted 276kg.

In squash, Sourav Ghosal, representing Tamil Nadu, expectedly entered the quarter-finals with a comfortable 11-4 11-5 11-7 win over Goa's Yash Fadte. In the women's competition, Joshna Chinappa also made it to the last-eight stage after outplaying Manipur's Rebecca Devi 11-3, 11-0, 11-2.

In other swimming events, Gujarat's 14-year-old sensation Kalyani Saxena snatched the 200m breaststroke gold by a whisker after clocking 2:47.22s. Finishing close behind her were Maharashtra's Rutuja Udeshi (2:47.47sec) and Saloni Dalal (2:47.49sec).

In the men's 4x100m relay, the Madhya Pradesh quartet of Rohit Imoliya, Arjun Jayaprakash, Merwyn Chen and Shubham Upadhyay picked up the gold medal by clocking 3:48.56s. They were followed by Kerala (3:53.22s) and Karnataka (3:58.36s).