India's football coach Wim Koevermans was proud of his team's overall performance in the Nehru Cup opener against Syria but said the water-logged turf at the Jawaharlal Nehru stadium had a bearing on the match in New Delhi.
Defending champions India started their campaign in the tournament on a positive note, defeating Syria 2-1 in the opener which was suspended for about 15 minutes due to rain.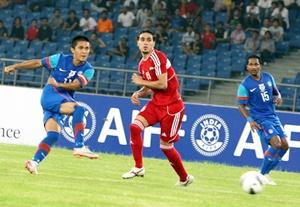 "I am pleased with the performance of our players and proud of my boys. They did really well, they were very active today. Whenever they got opportunities they threatened. The game was influenced by water," Koevermans said.
He said there was a change in tactic after the break.
"The plan was to play the ball in open areas for Sunil (Chhetri) and Francis (Fernandes)."
Koevermans was especially happy with the way the team played in the first 30 minutes, before the rain break.
"There were a few good moves, passes in the first 25-30 minutes. We are going to improve with every game. There were a few things in the first half we need to improve," he added.
About debutant Sanju Pradhan, the coach said the player was "quick" and "smart".
As far as replacing Sanju with Anthony Pereira was concerned, the Dutchman said it was done to add more "power in the midfield".
Asked about conceding in the last minute, Koevermans attributed that to lack of concentration and wet ground conditions, but added that his back four defended "incredibly" well after the rain break.
He said man-of-the-match Chhetri was good upfront.
About the opponents, Koevermans said Syria looked a good side in the first 25 minutes and that they were at the top of their game.
Syria's assistant coach, Anas Makhlouh said they created the opportunities but could not capitalise.
"The match was good but we could have scored. We are basically a team stocked with local players," Makhlouh said.