The Indiana Pacers withstood a late Miami charge to beat the Heat 99-92 and square their Eastern Conference final at two games all on Tuesday.
Roy Hibbert recorded 23 points and 12 rebounds, Lance Stephenson scored 20 and the Pacers responded to a blowout loss in Game Three with a determined home-court effort.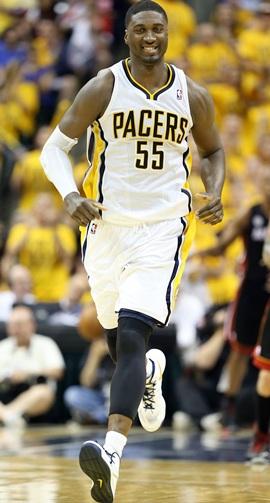 Game Five is on Thursday back in Miami where the defending NBA champions will try to regain control.
"When (Stephenson) plays like that we're unstoppable," Hibbert told reporters. "We're here, we're not going anywhere. We're going back down to Miami to go out there and fight again."
Miami roughed up the Pacers in an 18-point rout on Sunday but Indiana scored the first 11 points of Game Four and led for most of the contest, fending off runs from the Heat.
LeBron James led Miami with 24 points and Mario Chalmers added 20 but the Heat fell short in the fourth quarter.
Miami used a 14-2 run to turn a nine-point deficit into an 86-83 lead midway through the fourth quarter but Indiana quickly responded with a 7-0 run of their own and when James fouled out in the final minute there was no way back for the Heat.
Photograph: Andy Lyons/Getty Images