Jitu Rai struck gold twice with his pistol while Kerala's swimming sensation Sajan Prakash continued to shatter records and accumulate gold medals, adding a fifth to his tally, on the fifth day of competitions in the 35th National Games in Thiruvananthapuram on Thursday.
Haryana and Services Sports Control Board (SSCB) were locked in a battle of supremacy with the latter taking the top spot with 29 gold, 10 silver and 10 bronze (49). Haryana were breathing down the defending champions' neck with 25 gold, 11 silver and 6 bronze (42). Maharashtra were placed third with
21 gold 25 silver and 18 bronze (64).
At the shooting range, Jitu took his Games' gold tally to three when he first combined with Gurpreet Singh and Omkar Singh to ensure a top finish for SSCB in the 10m pistol team event before coming out trumps in the individual competition.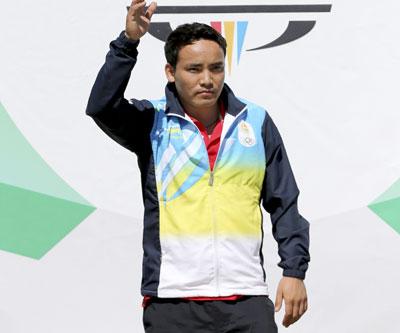 Jitu, Gurpreet and Omkar totalled 1724 to finish ahead of Punjab (1712), which was followed by Uttar Pradesh (1711). He added the individual gold with a score of 200.9, steering clear of the challenge presented by teammate Omkar (197.5) and Madhya Pradesh's Amit Kumar Pilaniya (177.9).
"I am very happy with how I have performed. It is very satisfying to get both the gold medals," said the shooter, who had surprisingly settled for a bronze in the 50m pistol individual event earlier in the Games.
Kerala sensation Elizabeth Koshy continued her good form and after the 50m rifle prone gold, she clinched the 50m rifle 3 position gold as well by scoring 445.9. Maharashtra's Vedangi Tuljapurkar (444.7) was the silver-medallist and Tamil Nadu's Sandhya Winfred pulled off the bronze in a star-studded field, which featured among others veteran Anjali Bhagwat and Lajja Gauswami.
Bhagwat, however, claimed the team gold in this category, combining with Vedangi and former world champion Tejaswini Sawant for Maharashtra with a score of 1710. Haryana shot the same score as the gold-medallists but had to be content with a silver medal on account of lesser perfect 10s, while Punjab
kept the bronze with a total of 1699.
In the 25m women's pistol team competition, the Maharashtra trio of Rahi Sarnobat, Shreya Gawande and Shradha Nalamwar clinched the gold medal with a combined score of 1722, while Haryana's Anisa Sayyed, Anita Devi and and Gauri Sheoran shot 1714 to grab the silver medal. Madhya Pradesh
ended up as bronze-medallists with a score of 1697.
Rahi then picked up the individual gold as well with a final score of 21, leaving Surbhi Pathak (Madhya Pradesh) and Shreya to settle for silver and bronze medals respectively.
At the aquatics centre, there was no end to new meet records with as many as five created today. Home sensation Sajan Prakash picked up his fifth gold of the Games in front of a delirious packed house by setting a new 800m freestyle meet record of 8:15.49sec. Maharashtra's Saurabh Sangvekar also breached the meet record but had to settle for a silver after freezing the clock at 8:22.50sec, followed by another home favourite Anand AS (8:27.27sec).
In the 1500m freestyle women's, Maharashtra's Akanksha Vora also set a new meet record with a timing of 17:42.44sec. Previous record holder Richa Mishra, representing Madhya Pradesh, also breached her own mark bu had to be content with a second-place finish with a timing of 17:55.26sec, followed
by Maharashtra's Monique Gandhi (18.00.03sec).
Not to be left behind, SSCB's P S Madhu bettered Virdhawal Khade's 100m backstroke meet record by two seconds to win the gold medal with a timing of 57.62sec. Karnataka's Avind Mani (58.18sec) took home the silver, while Madhya Pradesh representative Aaron D'Souza took the bronze (58.46sec). The women's gold in this event was won by Gujarat's Manna Patel (1:5.32sec), beating Maharashtra's Jyotsana Pansare (1:06.09sec) and Karnataka's Vaania KA (1:06.54sec).
Meet records were also shattered in both the men's and women's 50m butterfly with Khade and Pansare emerging as the respective champions. While Khade shattered his own mark to clock 24.73, Pansare bettered the previous record with a timing of 29.12sec.
In the trap shooting events taking place in Thrissur, former world number one Ronjan Sodhi walked away with the men's double trap gold medal. Haryana bagged the second and third spot through Ankur Mittal and Sangram Dahiya respectively.
Rajasthan's Shagun Chowdhary lived upto the favourite tag by clinching the women's double trap gold by shooting a score of 93.
Image: Jitu Rai of India celebrates on the podium.
Photo: Francois Nel/Getty Images