'Narsingh is a very senior wrestler and has done a fabulous job by sealing the Olympics berth.'
'But he needs to understand that the berth belongs to the country and not any individual.'
With the Sushil versus Narsingh debate heating up, Aruneel Sadadekar/Rediff.com spoke with Sushil's coach, Satpal Singh, a gold medallist at the 1982 Asian Games in Delhi, to clear the air.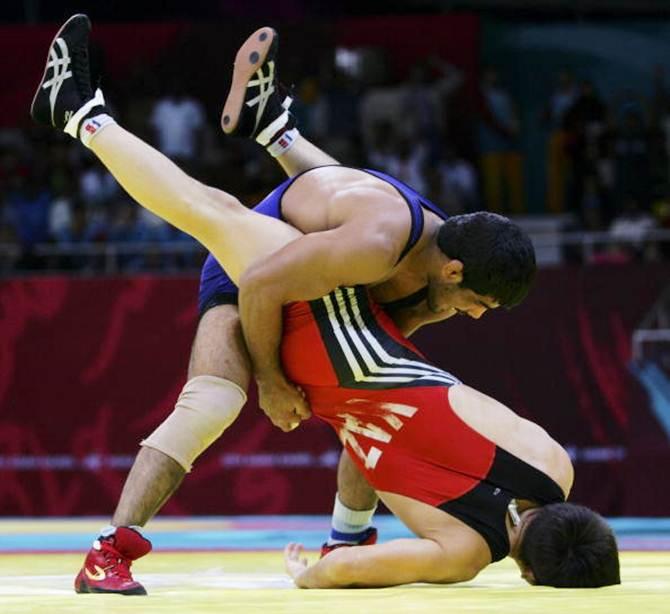 IMAGE: Sushil Kumar, left, wrestles with Kazakhstan's Leonid Spiridonov during the men's freestyle 66kg bout at the 15th Asian Games in Doha in 2006. Photograph: Julian Finney/Getty Images
Who will represent India in the men's 74kg freestyle wrestling event at the Rio Olympics?
Will it be two-time Olympic medalist Sushil Kumar or seasoned grappler Narsingh Yadav, who booked a berth by clinching a bronze in the weight category at the World Championships in Las Vegas?
Due to an alteration in weight categories by the world body, Sushil was forced to switch from 66kg to 74kg. The 32-year old Haryana wrestler could not make it to the World Championships because of an injury. Narsingh participated and returned from Las Vegas with a bronze medal.
With just over two months to go for the 2016 Summer Games, there is a tussle over which of the two strongmen will compete in Rio.
In an interview with Rediff.com some weeks ago, Narsingh made it clear that he does not want to fight Sushil in a trial bout to sort the issue, since he had sealed a place at the Olympics at the World Championships.
Satpal Singh, a gold medallist at the 1982 Asian Games in Delhi, a Padma Bhushan honoree and Sushil's coach, makes a case for Sushil Kumar.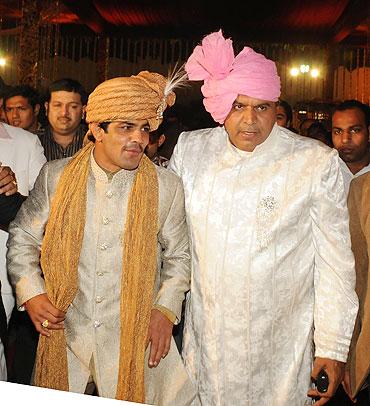 IMAGE: Sushil Kumar, left, with coach Satpal Singh. Photograph: Chaman Gautam
Narsingh says he won't fight Sushil in a trial bout to decide who goes to the Olympics since he deserves to compete at Rio on the strength of his sealing the berth at the World Championships...
Narsingh is a very senior wrestler and has done a fabulous job by sealing the Olympics berth. But he needs to understand that the berth belongs to the country and not any individual.
If you look at other countries, like Russia and the US, even their World champions or Olympic gold medalists have to go through qualification if the federation feels there is a challenge from some other wrestler in the same weight category.
In Russia, in fact, there were three bouts in every weight category only 15 days ago for Olympic qualification.
Narsingh says it is always the wrestler who sealed the berth that makes it to the Olympics...
No. I remember a case ahead of the 1996 Atlanta Games when two wrestlers -- Pappu Yadav of Haryana and Kaka Pawar of Maharashtra -- had to fight a trial round with India's spot sealed. Yadav defeated Pawar in the bout at the Indira Gandhi Indoor Stadium.
Look, it is very simple. We need to consider the best possible option for the country. Both the wrestlers are good, so why not fight and decide who can represent India in the best possible manner at Rio?
If you ask me, Sushil is more experienced and can win the coveted gold medal for India. Narsingh must fight Sushil to decide who goes to the Olympics.
The sports ministry has refused to be drawn into this controversy...
The federation will take a call on this. If you ask me, a qualification bout should be held as soon as possible so that the focus is more on winning an Olympic gold medal for India rather than on the controversy involving both these wrestlers.
Sushil has forwarded an application to the federation and the sports ministry in the morning today (Thursday, May 12) requesting a bout. This fight should be held this month (May) itself so that there is enough time for preparation.
What are your realistic expectations now? Do you think Sushil has fallen prey to a political game?
No! Sushil and I have full faith in the federation and the Government of India. The aim is to win gold for India and only a bout can decide who will be the best to represent the country.
Narsingh qualified, but Sushil was injured that time. Is it his fault that Narsingh sealed the Olympic berth?
Imagine a scenario where Sushil is not given a fair chance and Narsingh goes to Rio without a trial. What if he loses? Everyone will feel Sushil should have gone.
Why not conduct a trial now and put an end to any confusion or complications in this matter?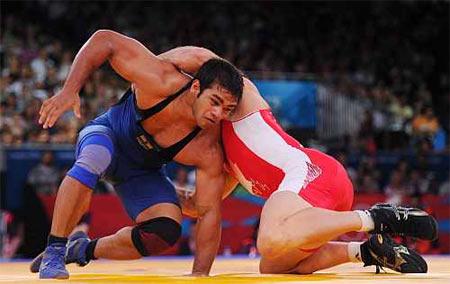 IMAGE: Narsingh Yadav at the 2015 World Championships in Las Vegas. He won a bronze medal in the 74 kg weight category. Photograph: Michael Regan/Getty Images
Why do you think Narsingh is saying no to a trial bout?
With due respect, I feel Sushil's preparations have been exemplary. He has never looked so fit in his entire career and is in the form of his life.
I think Narsingh is trying to escape him here and take the easy route to Rio.
Plus, consider this: the government has spent close to Rs 2 crore (Rs 20 million on Sushil's preparations in the last two years.
Was it to keep him in India without giving him a fair chance by a trial bout?
Sushil trains for more than eight hours daily for the past 8, 9 months. He was in Georgia for four months, where he defeated their top wrestler during training.
I think he can beat Narsingh with this form and fitness. He has done it in the past as well during the Inter-Railway competitions. This was around five years back when both competed in the 84kg weight category.
Narsingh should refrain from making statements in the media and show sportsmanship.
Fight Sushil, beat him and go with no one doubting his credentials.
Can you share Sushil's training regimen and his preparations in Georgia?
Sushil stayed in Georgia for four months, where he trained with international level wrestlers. The focus was mainly to give him mat practice.
Also, he played various sports like basketball, football or handball to increase his stamina.
Sushil climbs a 40 feet wall daily to increase the strength in his hands, back and shoulders. He also runs 4 to 5 kms everyday.
He returned only 4, 5 days back and has been training with 7, 8 wrestlers. He meets his kids only for an hour daily.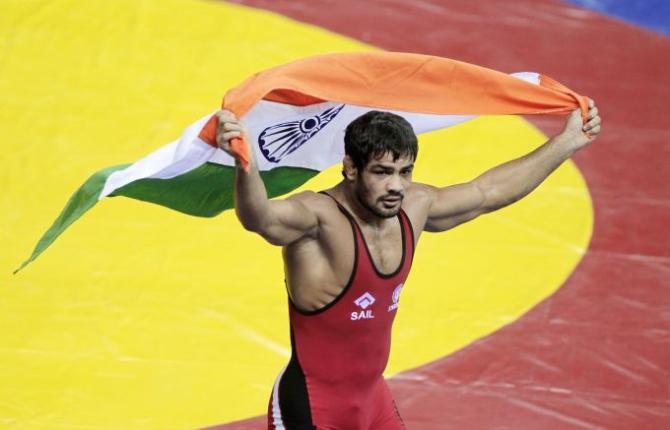 IMAGE: Sushil Kumar. Photograph: Krishnendu Halder/Reuters
Narsingh, who is 26 years old, says Sushil is past his prime, as he is 32 years old now.
(Laughs). So why isn't he fighting him? This is the fittest I have ever seen Sushil. Plus, he has the experience of two Olympic medals.
I will call him a favourite to bag a gold medal at the Rio Olympics.
As one of India's top coaches and a former wrestler, how many medals should we expect from wrestling?
This is a difficult question to answer.
We have a strong team of eight wrestlers who have qualified. India is among the top five wrestling countries in the world.
Sushil will remain India's best bet for a gold medal. 2012 Olympics bronze medalist Yogeshwar Dutt will be another top contender with his experience.
Among the women, Babita Kumari (53kg), Vinesh Phogat (48kg) and Sakshi Malik (58 kg) can be expected to deliver.
I repeat, preparations in the last 1 to 2 months play a crucial role for a wrestler ahead of a world event.
So it is high time the federation decides who between Sushil and Narsingh should make the cut for the Rio Olympics.