The Perfect 10 speaks for a perfect 12 minutes.
Rediff.com's Norma Godinho listens in as the first gymnast to ever score a 10 in the Olympics leaves her audience spellbound in Mumbai.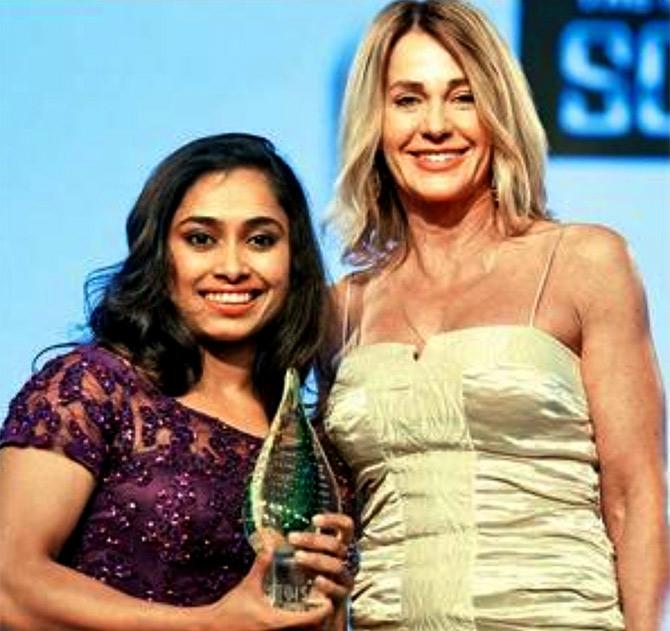 IMAGE: Legendary gymnast Nadia Comăneci with Dipa Karmakar, the star Indian gymnast who finished fourth in the Rio Olympics. Photograph: Kind courtesy @nadiacomaneci10/Twitter
Nadia Comăneci made a superstar entry on stage at The Times of India Sports Awards on Monday, March 20, night, at the sprawling J W Marriott hotel, Sahar, northwest Mumbai.
She was engaged in chatter by the host of the evening, sports commentator Charu Sharma.
In the 12-minute interaction, that had the audience frozen as they listened with rapt attention, Comăneci -- who won 9 Olympic medals -- went back in time and made some intriguing revelations.
It is easy to admire Comăneci.
For her sporting successes, of course.
And for the simple but key aspects of her character that came across in one evening in Mumbai.
She spoke humbly, but with elegance and dignity, all of which would have played a role in making her who she is.
Most importantly, if you have read up on her life -- I suggest you do -- and the extreme difficulties she faced in her birth country, Romania, when it was trapped behind the Iron Curtain, you are struck by how neutrally and non-negatively she speaks about the terrible hardships she endured to shine.
Moments from an evening to remember with the great Comăneci...
Her first brush with gymnastics
Nadia was like any another kid, full of beans, possessing oodles of energy.
She enjoyed doing flips in the house. She loved to turn flips ("or what I thought were flips," she quipped) so much that she would invariably "destroy the furniture."
Tired of her antics, her mother decided to send her to a gymnastics facility close to home (Nadia started gymnastics at 6-and-a-half) where she could be happy and direct her energy fruitfully.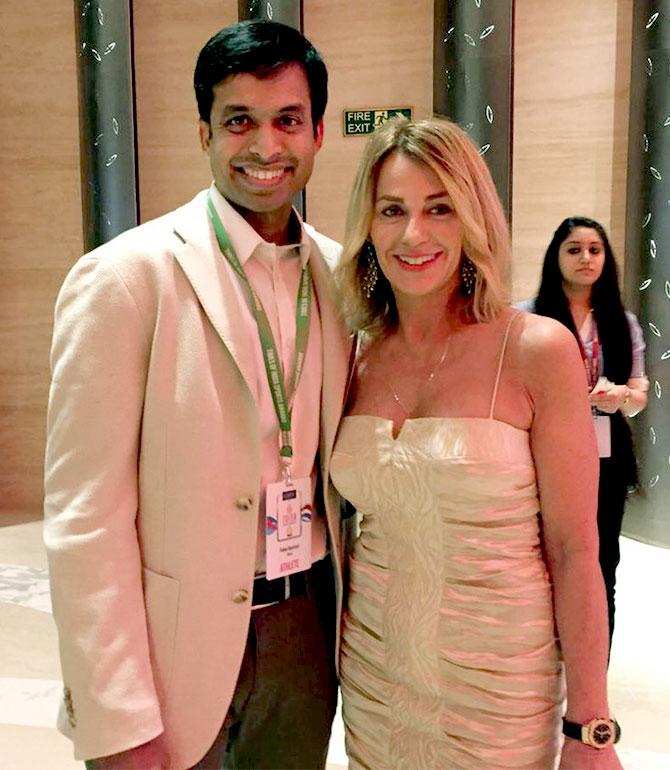 IMAGE: Nadia Comăneci with badminton ace and coach Pullela Gopichand. Photograph: Kind courtesy @nadiacomaneci10/Twitter
The story behind the Perfect 10
Nadia made the world sit up and take notice when, aged 14, she made Olympic history by becoming the first gymnast to ever score a perfect 10.
Like every great story, there is a twist to this one too.
"At the 1976 Olympics when I got the perfect 10s I thought I did well in training. Even though it looked pretty good from the outside I felt I could have done a little better," Nadia told her Mumbai audience.
"There were four judges and there was a 10, 10, 10 and a 9.9. The judges who gave me 9.9 and 10 went out and then came back and gave me a perfect score."
And here is another anecdote for the ages:
"My mother couldn't bear to watch the competition live; she had to go to her room later to watch the replay because she was afraid I would make a mistake."
Mothers, I tell you!
Moscow, 1980
"I was too young to understand what the Olympics meant. It was good I didn't understand."
"When I was 18 at the 1980 Olympics I had a little pressure because I was going in as the Olympic champion. People were expecting me to win."
"I made a little mistake on the uneven bars, but I was still able to win two gold and two silver."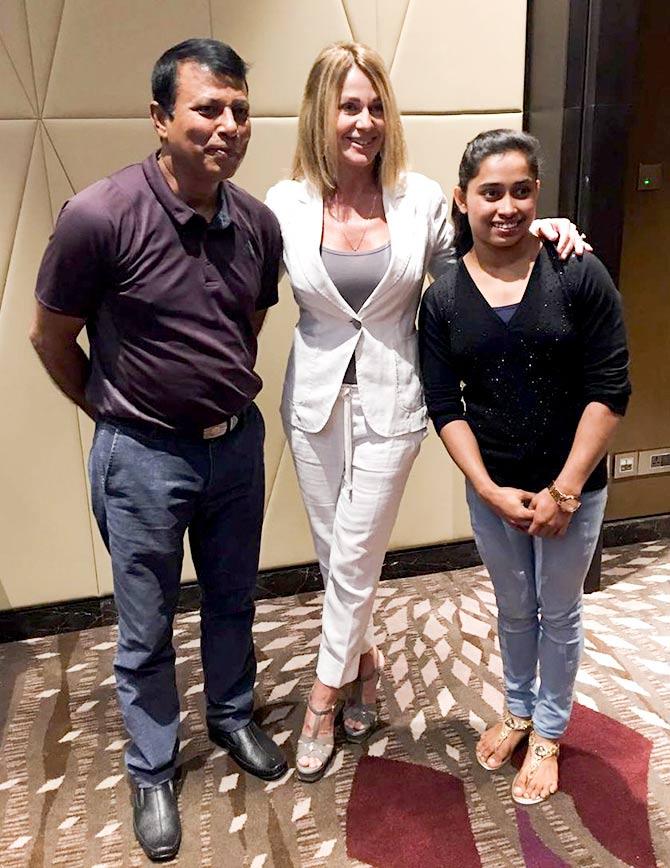 IMAGE: Nadia Comăneci with Dipa Karmakar and her coach Bishweshwar Nandi. Photograph: Kind courtesy @nadiacomaneci10/Twitter
Her favourite gymnastics routine
"The one you like the most is the one you are best at -- so uneven bars and balance beam."
"Those are the ones I got my first Perfect 10s or the 1.00. I was ok on the vault and ok on floor."
She wasn't recognised when she moved to the US
"It was difficult for Romanians in the 1980s. I had retired from gymnastics. I wasn't able to travel too much and made a decision to try to leave the country."
"I didn't know the revolution (when the Romanian tyrant Nicolae Ceaușescu was overthrown) was to happen. It happened three weeks after I left."
"I arrived in the States and was lucky to be surrounded by people from gymnastics."
"Every time I did little appearances with Bart Conner (the American Olympic champion gymnast, who she married in 1996) when people would ask him for autographs, he would say 'Won't you like an autograph from Nadia Comăneci?'"
"They (the autograph seekers) said you were so cute when you were 14! I still don't know what to say."
Message for Indian gymnasts
"Good for India to have a role model in Dipa Karmakar."
"I heard about her some years ago saying a lady from India does an amazing vault and I was curious to see who this lady is and what is the vault."
"I watched her in Rio. I wanted her to do well."
"What she has done for your country, for the little ones (to take inspiration), she has made history by being the first finalist."
"She doesn't have to do anything now. I hope kids look up to her and take up gymnastics because that is how we all started."
"The most important thing is to have love and passion for what you do. And be surrounded by good people who want the best for you."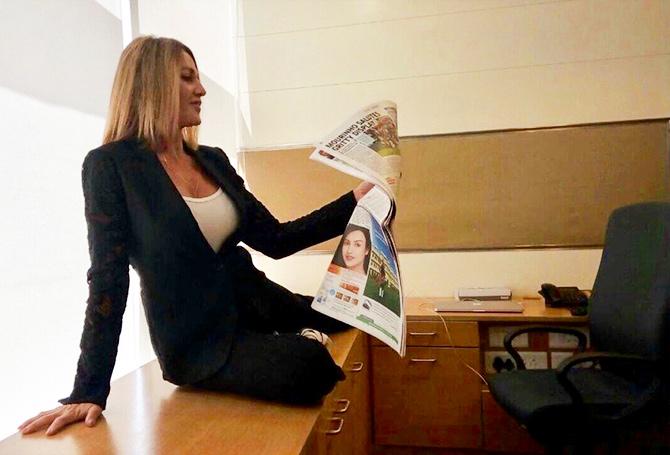 IMAGE: The superstar gymnast guest edits The Times of India. Photograph: Kind courtesy @nadiacomaneci10/Twitter
Comăneci has visited India a couple of times before, working on a school project with the NGO Magic Bus Foundation.
"I was surprised that people recognise me in India and remember what I have done, because we have champions and champions and we have a tendency to forget what happened last year."
When she first met her husband
"In 1976 I competed at Madison Square Garden (in New York) in the American Cup."
This was when she met Bart Conner for the first time.
"I was 14, he was 18."
They both won the competition, and 20 years later they were married.
When Charu Sharma asked her to do cartwheels, Comăneci quipped: "I don't have the right outfit for cartwheels, but I will do a hand stand the next time if you will do one!"