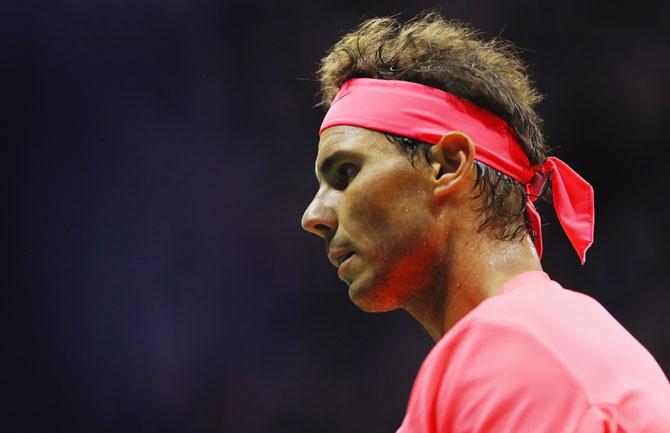 IMAGE: Rafael Nadal questioned the authorities' move to allow Fabio Fognini play two doubles before his suspension for misconduct in a previous match. Photograph: Richard Heathcote/Getty Images
World No 1 Rafael Nadal has criticised US organisers for waiting three days before suspending Fabio Fognini from the tournament for unsportsmanlike conduct during his first round defeat.
The 22nd seed Fognini was cited for three code violations during his 6-4, 7-6(8), 3-6, 6-0 loss to fellow Italian Stefano Travaglia on Wednesday and was heard directing vulgar language towards Swedish chair umpire Louise Engzell.
He was slapped with $24,000 in fines on Friday but was allowed to play two matches in the doubles tournament with partner Simone Bolelli before the Grand Slam Board announced their decision to suspend Fognini on Saturday.
"Of course (it) is not a positive thing (what Fognini did)," twice US champion Nadal said after his third round win over Leonardo Mayer.
"Of course if you are not doing the right things on the court, of course you need to be in some way affected.
"But at the same time it's true that things can be made (to) happen earlier because I believe that he played two matches after that match, two doubles matches.
"If they want to suspend him, (it would) be much better to do it immediately, not three days later or four days later."
Renowned for his temper, 30-year-old Fognini posted an apology on Twitter.
"It was just a very bad day, but it did not forgive my behaviour in the match," it said.
"Although I'm a hot-head (and though I've been right in most circumstances) I was wrong. But in the end it's only a tennis game."
Fognini has previously been in hot water for his on-court behaviour at the grand slams. At Wimbledon in 2014, he was fined $27,500 for unsportsmanlike conduct.