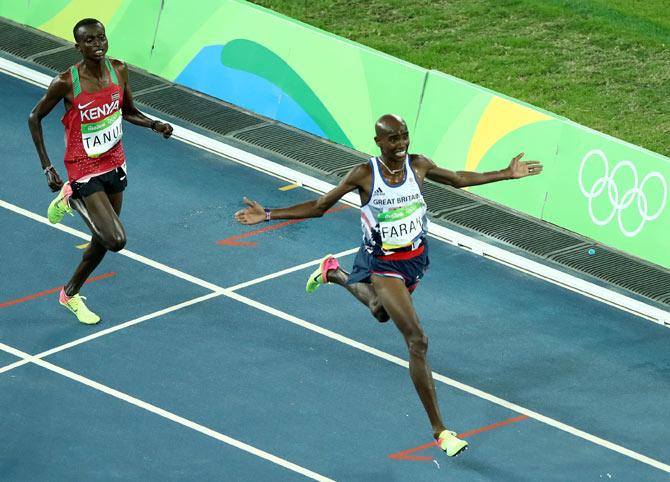 IMAGE: Mohamed Farah, right, celebrates winning the 10,000m ahead of Paul Kipngetich Tanui of Kenya on Day 8 of the Rio 2016 Olympic Games. Photograph: Ezra Shaw/Getty Images
Britain's Mo Farah recovered from an early fall to sprint clear of the field in the home straight and retain his Olympic 10,000 metres title with a brilliant tactical display on Saturday.

"When I went down it didn't take a lot out of me and I got up quickly, I thought about how much I'd worked and I wasn't going to let it affect me. It's hard mentally when you go down," an emotional Farah told reporters.

Farah's blistering final lap ensured he became the first British runner to win three Olympic titles and he is now the favourite to add a fourth in the 5,000m next weekend.

Should he succeed, the 33-year-old Somali-born Farah would emulate Finnish great Lasse Viren as the only men to complete a "double double" by retaining the Olympic 5,000 and 10,000m titles he won in London four years ago.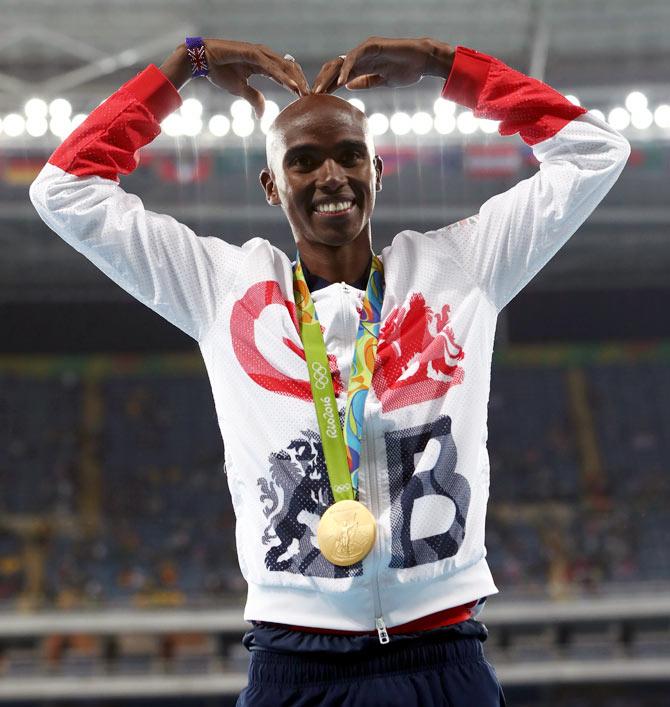 IMAGE: Gold medallist Mohamed Farah celebrates on the podium during the medal ceremony for the men's 10,000m on Day 8 of the Rio 2016 Olympic Games. Photograph: Buda Mendes/Getty Images
The second half of the race was a tactical masterpiece from Farah, who was tripped with 16 laps to go by American training partner Galen Rupp but picked himself up and worked his way through the field to claim victory in 27 minutes 5.17 seconds.

As the pace increased in the final laps and the leading bunch lost numbers, the race descended into a winner-takes-all dash for gold between Farah and Kenya's Paul Tanui, with the Briton always looking favourite to come out on top.

Once again Farah relied on his finishing kick to outsprint Tanui and crossed the finishing line with his hands placed on top of his head in his signature "Mobot" pose.

Tanui, who has won two world championship bronze medals over 10,000m, tried to keep up with Farah on the final lap but had to settle for silver with Ethiopia's Tamirat Tola beating the rest home to take bronze.

"I got emotional because you put so much work in and in one moment it's gone," Farah added of his fall. "That one moment could be it, I just had to get through it and believe in myself."