Major League Soccer's Sporting Kansas City have ended their stadium naming deal with Livestrong, the cancer foundation started by disgraced former cycling champion Lance Armstrong, the team said on Tuesday.
The $200 million stadium was opened in June 2011 and the club announced a high-profile six-year deal with the charity, naming the venue Livestrong Sporting Park and committing to contributions to Armstrong's organisation.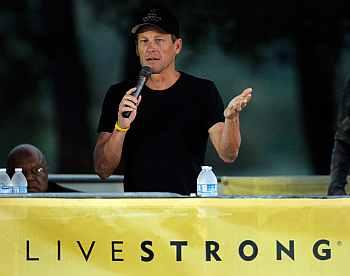 Since being stripped off his seven Tour de France titles and deciding to end his fight against doping charges, Armstrong has stood down from his positions with the charity.
In a statement issued on Tuesday, Sporting did not mention Armstrong directly nor did they give any specific reasons for ending the arrangement.
"Over the course of the past year, it became clear that Livestrong no longer shared the same spirit of partnership, despite our perseverance to the contrary," said Sporting CEO Robb Heineman in the statement.
"This morning we were disappointed to learn Livestrong is utilising aggressive tactics designed to force us into an unsatisfactory arrangement.
"We willingly admit we were not expecting the foundation to treat a partner in this manner. Even more surprising is that Livestrong would take this action in the midst of a significant transitional phase for their organisation," added Heineman.
Armstrong personally endorsed the deal for the stadium in March, 2011 saying it was an "innovative opportunity".
The stadium, which will hold this year's MLS All Star game, will now be known as Sporting Park, the team said.
Livestrong were not immediately available for comment but chief financial officer Greg Lee told ESPN.com
"We strive to be great partners ourselves and expect the same from those we do business with.
"If a partner is struggling to meet the terms of our agreement, we do everything possible to reach a fair and reasonable compromise. If no compromise can be reached, as good stewards of our brand and mission, we have no choice but to bring that agreement to an end."
Armstrong is to break his silence over the doping accusations in an interview with Oprah Winfrey to be broadcast on Thursday.
The Texan is reported to have admitted to doping in the show which was recorded on Monday.