Lionel Messi's Copa America dream lay in tatters on Saturday after Argentina were beaten by old rivals Uruguay in a dramatic quarter-final.
Uruguay, aiming for a record 15th title, won a penalty shootout 5-4 following a 1-1 draw after extra time in Santa Fe. They meet Peru in Tuesday's semi-final in La Plata after the Peruvians upset Colombia 2-0 after extra time in Cordoba.
Messi, still without a goal for Argentina in a competitive match since March 2009, had dreamt of inspiring Argentina to their first major title since the 1993 Copa America before an assault on the World Cup in Brazil in 2014.
Coach Sergio Batista's critics can be expected to round on him after a disappointing tournament in which Argentina only won one group match against a weak Costa Rica side despite preaching the kind of attacking football perfected by Messi's club Barcelona.
"I will carry on ... I don't call this a failure," Batista told the post-match news conference at the Brigadier Estanislao Lopez stadium.
"We have to continue working for the most important thing which is getting to the World Cup," added Batista, whose contract runs until the end of the South American qualifiers in 2013.
"In the first two matches we didn't play the way we wanted, in the third we played well and today we could have won in the first half which was our aim. Then we lost some composure when it was 10 against 10."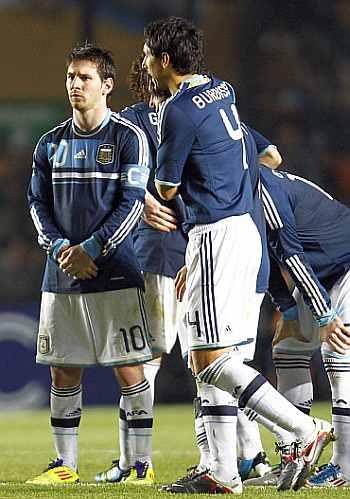 "(Messi) had an 30 exceptional minutes (against Uruguay)," Batista said of his ace who laid on trademark passes fellow forwards and came close to a breakthrough himself.
Carlos Tevez became the Argentine villain as the only player to have his penalty saved in the shootout by Fernando Muslera, who had a fine game in goal.
Tevez added little to the attack when he came on as a substitute near the end of the second half.
In the space of little more than a month, Tevez was recalled by Batista amid popular acclaim after an apparent falling out, cemented his standing as "The people's player" and even earned a starting place in the early group matches.
While many thought he might be the ideal foil for Messi, Tevez has disappointed.
Peru stun Colombia
Unfancied Peru shocked Colombia 2-0 on Saturday to reach the Copa America semi-finals after midfielders Carlos Lobaton and Juan Vargas scored in extra time.
The Colombians should have taken the lead with a penalty in the 66th minute but striker Radamel Falcao put the ball wide.
With game 0-0 at the end of 90 minutes, Colombia goalkeeper Luis Martinez spilled the ball when he came out at a Vargas free kick and substitute Lobaton fired into the roof of the net to put Peru ahead in the 12th minute of extra time.
Ten minutes later, with Colombia pressing for an equaliser, striker Paolo Guerrero took possession in a counter-attack and passed to man-of-the-match Vargas, who rifled home.
"We have to recognise that if (Colombia) had slotted in the penalty it would have been a different match," Peru coach Sergio Markarian said at a news conference.
Markarian said that in extra time his team produced their best 30 minutes of the tournament so far. "The tactic was to give Paolo (Guerrero) more support (up front)," he said.
"We've taken a big step, not so much towards the Copa but towards the World Cup. This will unite us," Markarian said of his first efforts to revive the Peru team after years of disappointment.