Lithuania's teenage Olympic champion Ruta Meilutyte set a European and World championship record in qualifying for the 100 metres breaststroke on Monday as she chases a first world swimming gold for the Baltic nation.
Swimming in the final heat alongside Jessica Hardy of the United States at Barcelona's hilltop Palau Sant Jordi, Meilutyte was just 0.07 outside Hardy's 2009 world record of one minute 4.45 seconds with a time of 1:04.52.
The 16-year-old, who trains in England, beat American Rebecca Soni's world championship record of 1:04.84 set at the 2009 edition in Rome and will have a chance to improve on her time in the semi-finals later on Monday and Tuesday's final.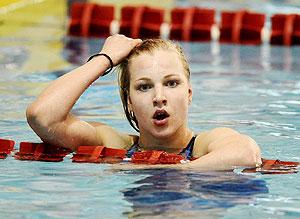 Hardy was second-quickest in 1:05.18 with Russia's Yuliya Efimova third in 1:05.24 followed by Rikke Moller Pedersen of Denmark in 1:06.30.
The two biggest names in the US women's team, teenagers Missy Franklin and Katie Ledecky, were also in qualifying action on Monday.
Olympic champion Franklin, 18, who won gold in Sunday's 4x100 freestyle relay, was just over a second outside Briton Gemma Spofforth's world record in the 100 metres backstroke.
The 16-year-old Ledecky, who became only the second woman to break four minutes to claim the 400 metres freestyle title on Sunday, won her heat but finished second fastest overall, just behind Denmark's Lotte Friis who won her earlier qualifier.
HAVING FUN
Franklin, who is swimming eight events in Barcelona including relays, said she was not focusing on breaking Spofforth's backstroke record in the semi-finals or in Tuesday's final.
"I haven't even thought about it, I'm just going to go out there and swim and have fun," she told reporters.
"I think when you focus too much on a number you kind of lose what swimming is all about. So I'm just going to go out there and see what I can do."
Ledecky smiled when asked if the world record would fall in Tuesday's 1,500 metres final.
"We'll see," she said. "I definitely have a lot left in the tank," she told reporters.
"I carried the excitement and energy from last night into this morning and recovered really well."
Briton Robbie Renwick was quickest in the men's 200 metres freestyle heats ahead of Nicolas Oliveira of Brazil and Dutchman Sebastiaan Verschuren, with heavyweights Yannick Agnel of France and American Ryan Lochte also going through.
Australia's Ashley Delaney topped qualifying in the 100 metres backstroke, followed by American David Plummer and Xu Jiayu of China.
Image: Ruta Meilutyte
Photograph: Tony Marshall/Getty Images