Real jump the gun on Ronaldo scoring record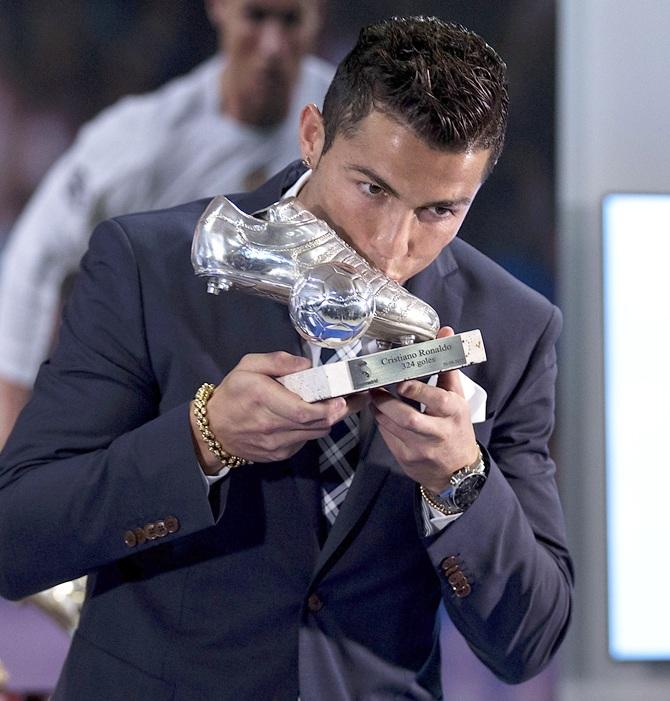 Real Madrid's Cristiano Ronaldo kisses his trophy as all-time top scorer. Photograph: Gonzalo Arroyo Moreno/Getty Images
Real Madrid paid homage to Cristiano Ronaldo as their outright leading scorer on Friday even though the official statistics show he has yet to overhaul former Spain striker Raul.
How 'mythical and legendary' Ronaldo scripted history
Real, and some Spanish media, believe an effort five years ago that was deemed a goal by centre back Pepe should have been awarded to the Portugal captain and he therefore has 324 goals, one more than Raul.
Real Madrid's Cristiano Ronaldo poses for a picture with his son Cristiano Ronald JR and mother Maria Dolores dos Santos. Photograph: Gonzalo Arroyo Moreno/Getty Images
The disputed goal came in a La Liga game at Real Sociedad in September 2010 when Ronaldo's shot arrowed towards the Sociedad wall, looped up off Pepe's back and over goalkeeper Claudio Bravo into the net.
"I would never have imagined when I put on this shirt for the first time that I would be the team's best goal scorer," Ronaldo said at a presentation at the Bernabeu stadium where he received a trophy marking his achievement.
"I am very happy," added the 30-year-old. "Firstly, I want to thank my team mates because without them it would never have been possible."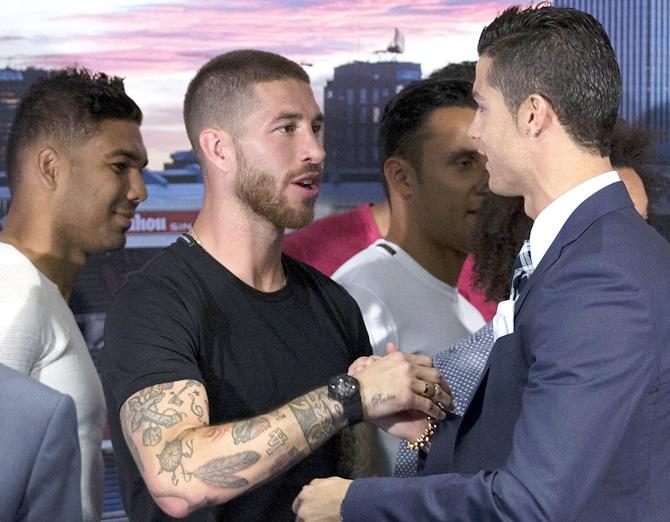 Cristiano Ronaldo, right, shakes hands with his teammate Sergio Ramos. Photograph: Gonzalo Arroyo Moreno/Getty Images
Ronaldo's next chance to officially break the record is Sunday's La Liga match at Atletico Madrid.
He needed a mere 308 matches across seven seasons to equal Raul's tally of 323, amassed in 741 games over 16 years.