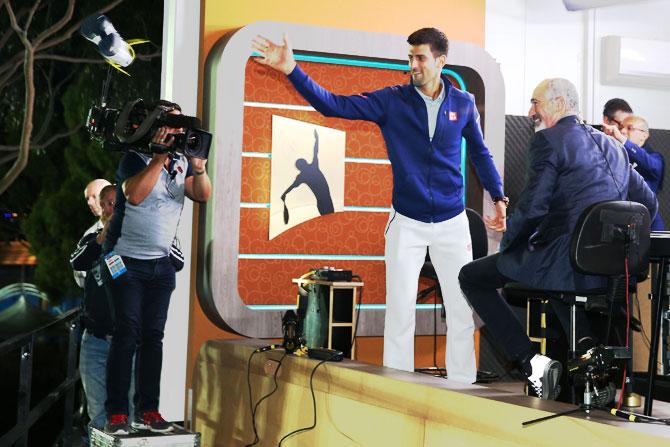 IMAGE: Novak Djokovic throws his shoes to the crowd during media interviews following his win over Andy Murray in the Australian Open final at Melbourne Park on Sunday. Photograph: Cameron Spencer/Getty Images
Newly crowned Australian Open champion Novak Djokovic was not short of energy as he overpowered Andy Murray to claim his sixth Australian Open title at the Rod Laver Arena on Sunday.
But another thing that the World No 1 had in plenty was crowd support, especially coming from a large contingent of Serbian fans outside the Rod Laver Arena.
As Djokovic headed to the press rooms for his interviews, he was greeted by a big number of his supporters.
On receiving a warm reception Djokovic said of his Serbian fans: "I didn't expect it, quite incredible. They watched in the main square. I have never experienced such support"
IMAGE: Serbian supporters wrestle for Novak Djokovic's shoe after he threw it into the crowd in garden square in Melbourne. Photograph: Vince Caligiuri/Getty Images
During a television interview for the Australian Open with former tennis player Jim Courier, Djokovic's fans demanded he throw them his shoes.
The World No 1 being the sporting man that he is, told the interviewers: "They're [fans] asking me to throw away my shoes."
He promptly got up from his seat and obliging the hundred-odd crowd threw his shoes in their direction.
Djokovic was later seen patiently signing autographs for his Serbian supporters.
Big respect for the World No 1 for showing respect to his fans.