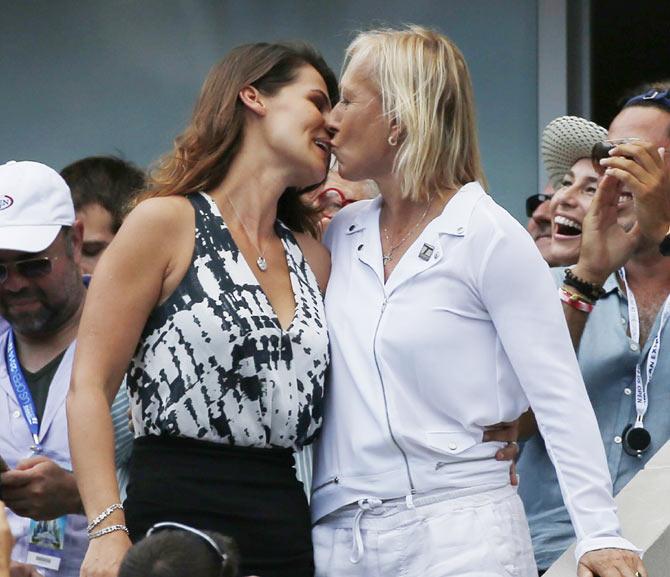 Tennis great Martina Navratilova kisses her partner Julia Lemigova (left) after making the proposal. Photograph: Mike Segar/Reuters
Martina Navratilova proposed to longtime girlfriend Julia Lemigova at US Open Tennis Championships on Saturday.
The 57-year-old tennis legend popped the question during a break while she was providing colour commentary for the men's matches and the moment was telecast on the Jumbotron, a large screen television, at the New York's Arthur Ashe stadium.
Navratilova got down on one knee and offered her girlfriend a diamond-studded ring, to which Lemigova teared up before embracing her and said 'yes'.
"We've been together six years and I can't imagine my life without you. Please marry me," the 57-year-old former world No. 1 asked her 42-year-old former Russian beauty queen girlfriend.
The proposal followed the first men's semi-final match, in which top seed Novak Djokovic was trounced by Japan's Kei Nishikori.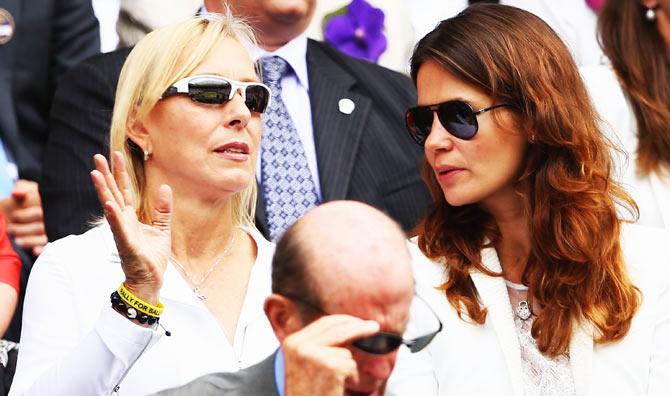 Martina Navratilova and Julia Lemigova. Photograph: Clive Brunskill/Getty Images
"Thanks everyone for your good wishes - I am very happy, so is Julia and our whole family:)", Navratilova tweeted after wishes came pouring in following the proposal.
The 59-time Grand Slam winner, who won a history-making 1,442 singles matches, has been dating Lemigova, a past Miss USSR, since 2006.
Lemigova has two children from a previous marriage, and now runs a skincare business.
Navratilova has no children and previously described the joys of parenting after Lemigova and her children moved in with her.