'Tennis is full of lesbians, because even when I was playing there was only a couple there, but those couple that led, that took young ones into parties and things'
'We're there to help them overcome. We're not against the people'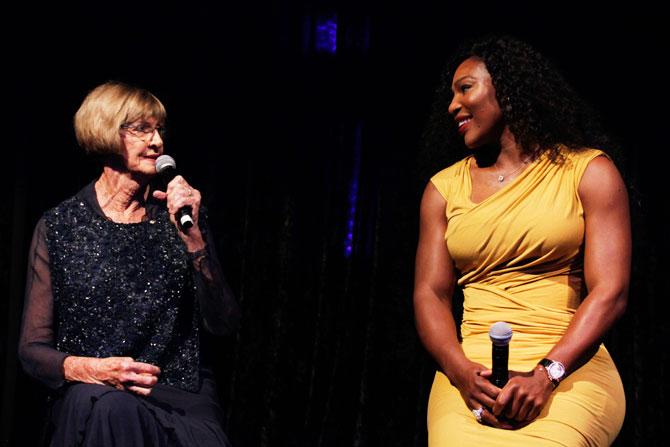 IMAGE: Margaret Court and Serena Williams. Photograph: Philip Gostelow/Getty Images .
Australian 24-time Grand Slam winner Margaret Court said on radio on Wednesday that tennis was 'full of lesbians', courting controversy again just a week after expressing her opposition to same-sex marriage.
Court, who is now a pastor, told radio show Vision Christian Radio, "Tennis is full of lesbians, because even when I was playing there was only a couple there, but those couple that led, that took young ones into parties and things."
"And you know, what you get at the top is often what you'll get right through that sport," she said.
"We're there to help them overcome. We're not against the people."
Court drew public criticism last week after writing an open letter saying that she would not fly with Qantas Airlines due to its support for same-sex marriage.
World number one Andy Murray, 18-time Grand Slam champion Martina Navratilova and several Australian players including Samantha Stosur, Nick Kyrgios and Jamiee Fourlis expressed disapproval of the 74-year-old's comments.
Navratilova has called for the Australian Open venue Melbourne Park Stadium, which was named Margaret Court Arena in 2003, to be renamed. Stosur has suggested that players may choose to boycott the venue during the January tournament.