London Olympics bronze-medallist M C Mary Kom has finally been alloted the plot of land promised to her by the Manipur government to expand her boxing academy.
"The managing board/committee of Mary Kom Regional Boxing Foundation would like to extend heartfelt gratitude to the Government of Manipur; Hon'ble CM. Shri. O Ibobi Singh and his Cabinet for allotting 3.30 acres of land, No. 21/109/2011-R as approved by the cabinet on 19/02/2013 for construction of infrastructure for the existing boxing academy of MC Mary Kom at National Games Village, Langol," a release from the Mary Kom Regional Boxing Foundation stated.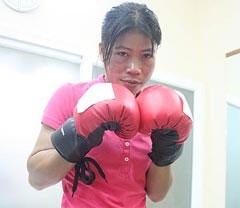 The land was promised to her in August last year after she won a bronze medal in the London Olympics, where women's boxing made its debut, but the approval from the state cabinet came only earlier this month.
The academy was established in the 2006 with focus on underprivileged potentials. It provides free training and boarding and lodging to its wards.
The current number of students at the academy is 57 (29 residential and 28 outsiders).
"My long cherished dream next to Olympics is coming closer to reality and I am very grateful to Hon'ble C.M. Pabung O. Ibobi Singh for his concern," Mary said.
"I believe this will be a great motivation to my students to work harder and bring more laurels. Let us strive towards mentoring our future generation in whichever way we can," she added.
Mary said the land will come in handy to increase academy's strength.
"It will remain a great encouragement to the students and the committee as certain challenges we are facing will be coped to some extent, especially training during rainy season," she said.
"We look forward to giving better performance in future with the blessings from the Government and the people of this land," she added.