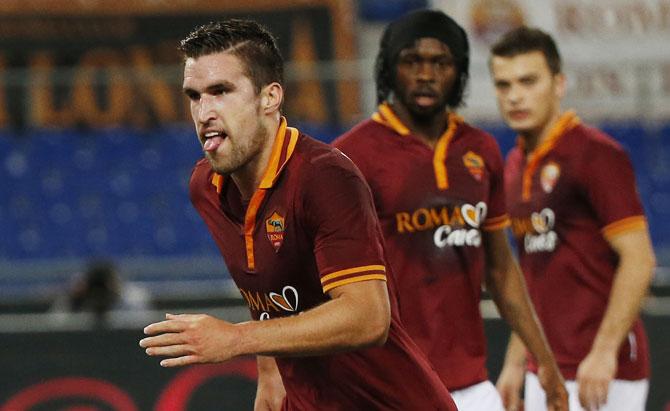 Kevin Strootman of Roma celebrates a goal. Photograph: Alessandro Bianchi/Reuters
Manchester United can give up hope of signing AS Roma's Dutch midfielder Kevin Strootman in the next transfer window, the Italian club's owner told the BBC on Wednesday.
United, managed by Strootman's former national coach Louis van Gaal, have been strongly linked with the player who is still recuperating after suffering a serious knee injury in March.
"It is just not happening," James Pallotta said at the Leaders in Football Conference.
"I have told the papers that they should stop wasting paper. We don't have any interest in selling Kevin."
The 24-year-old Strootman, who has played 25 times for his country, would add much-needed steel to the United midfield and was a favourite of Van Gaal's with the Dutch national side.
"Obviously, as business people when people call us and say 'we want your player' you are going to listen to them," Pallotta said.
"You have to do that, that is the business side. That doesn't mean you are going to make a decision that 75 million pounds ($121.1 million), bang you hit the bid. That is not the way it is going to work, it is not the way it does work with us," he added.
"Our view is that we want to put a great team out there, but we are not saying 'we have to make a ton of money'. Our goal across the board is stability."