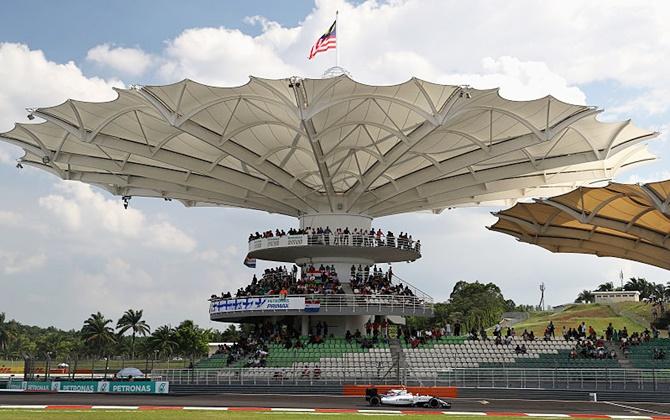 IMAGE: Malaysia Formula One Grand Prix at Sepang Circuit. Photograph: Mark Thompson/Getty Images
Malaysia will stage its final Formula One Grand Prix in October after the government and the sport's commercial rights holders announced on Friday that their hosting agreement would end a year early.
The Southeast Asian country has hosted a round of the world championships at the Sepang International Circuit (SIC) since 1999 but the government said last November that the deal would not be renewed when it expired at the end of 2018.
On Friday, however, both parties announced that the Oct. 1 race this year would be the last.
"It's always sad to say goodbye to a member of the Formula 1 family," Formula One commercial operations managing director Sean Bratches said in a statement.
"Over nearly two decades, the Malaysian Formula 1 fans have proven themselves to be some of the sport's most passionate supporters."
Malaysia's Prime Minister Najib Razak said on Friday that declining ticket sales, viewership and tourism were behind the decision to pull out of hosting the race.
"The Cabinet has agreed to end the contract for hosting the Formula One race... after considering lowering returns to the country compared to the cost of hosting the championships," he said in a statement.
State oil and gas firm Petronas is the title sponsor of the F1 race. The company has been hit hard in recent times by tumbling oil prices.
Petronas, however, would continue to sponsor the Mercedes Formula One team as part of its marketing strategy, Najib said.
Mercedes team boss Toto Wolff said he hoped the last race at the circuit would provide a fitting finale.
"It's been a very successful race over 18 years but they have decided to call it a day and we have to respect that decision," Wolff told reporters in Shanghai, where Mercedes are preparing for this weekend's Chinese Grand Prix.
"I hope we can mark 2017 with a special result in Sepang -- it will be the last grand prix on a really challenging circuit and it would mean a lot to win there for all our fans in Malaysia.
"Although we will miss the event from the calendar, our long and successful partnership with Petronas means Malaysia will continue to have a world-class presence in F1 in the years ahead."
Government funds allocated for the race will be redirected towards other types of motor racing, upgrading the circuit, and training future Malaysian Formula One drivers, the Prime Minister added.
Formula One faces an uncertain future in Southeast Asia as the other race in the region, the Singapore Grand Prix, has yet to agree terms on an extension to its contract that expires this year. The first Singapore race was held in 2008.
The Sepang Circuit will continue to host a round of the motorcycling world championships until 2021 under the terms of a deal signed with MotoGP rights holders Dorna Sports last year.