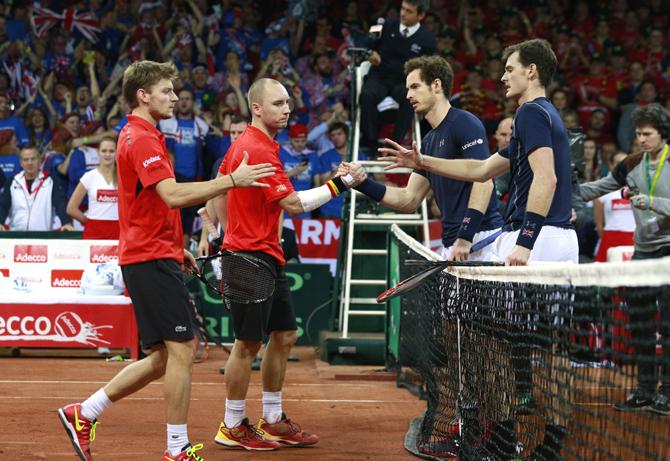 IMAGE: Great Britain's Andy Murray and Jamie Murray shake hands with Belgium's Steve Darcis and David Goffin after winning their match. Photograph: Jason Cairnduff Livepic/Action Images via Reuters
The magnificent Murrays, Andy and Jamie, put Britain within touching distance of a first Davis Cup triumph for 79 years with a doubles victory over Belgium duo David Goffin and Steve Darcis in Ghent on Saturday.
A match played out in an electrifying atmosphere ebbed and flowed before the brothers took charge to carve out a 6-4, 4-6, 6-3, 6-2 victory and give Britain a 2-1 lead.
World number two Andy was inspired, as he has been throughout Britain's run to a first final since 1978, and can deliver the winning point in Sunday's first reverse singles against Belgium's top player Goffin.
Older brother Jamie, the seventh best doubles player in the world, struggled at times, but his nerve proved solid as he served for the match.
When Darcis screwed a forehand wide the brothers embraced and the hundreds of British fans wedged into the claustrophobic 13,000-seat arena in the Flanders Expo roared their approval.
"There was so much noise, it was mental. We were shouting to each other at times but it's brilliant," Jamie said on court as a brass band led a rendition of "We're gonna win the Cup."
"To play in a Davis Cup final with your brother and to win a point for your country is great. We may never get the chance to do that again," Andy Murray told reporters.