'I don't know how many chances I will get to play at the biggest level, so I want to make the most of it.'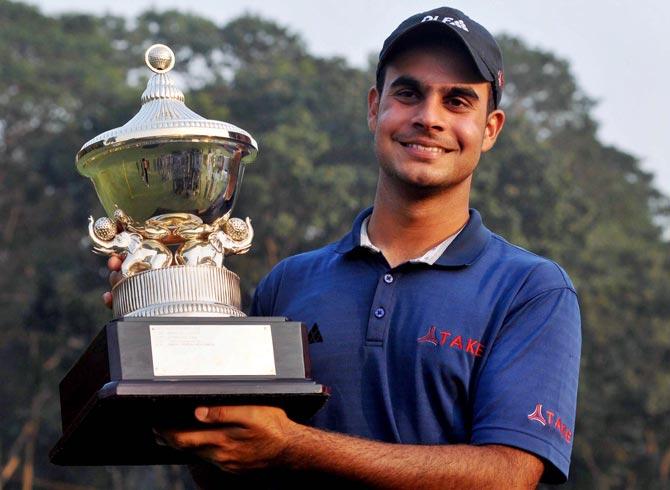 IMAGE: Shubankar Sharma holds the winner's trophy after winning the McLeod Russel Tour Championship 2017 in Kolkata. Photograph: PTI
India's rising golf star Shubhankar Sharma is excited at the prospect of playing with his 'idol' Tiger Woods at the next year's Open Championship.

The 21-year-old Gurgaon lad on Sunday won the PGTI's Rs 1.5 crore season-ending Tour Championship to end the year on a high with three titles, including the Joburg Open earlier this month.
Preferring to stay grounded, Sharma, who turned Pro after winning the All-India Amateur Championship 2013 in Kolkata, said his real aim is to break into the top-50 at the earliest.

"Tiger is my idol. I am really looking forward to playing with him at the Open. He is fit now and will play most probably," Sharma said after prevailed over Delhi's Rashid Khan by one shot en route to win the Tour Championship at RCGC.

"Now the doors are open, the real game will begin now. Obviously I will be more on the spotlight now. The focus is to get as many world ranking points as possible and break the top-50 as soon as possible," Sharma said.

The Joburg victory had made him the youngest Indian to win on the European Tour, and fifth overall in an elite list of Arjun Atwal, Jeev Milkha Singh, SSP Chowrasia and Anirban Lahiri.

"I don't know how many chances I will get to play at the biggest level, so I want to make the most of it. Besides, it's obviously great to play alongside legends like Woods, who has been an inspiration to me," a modest Sharma said.

"Now obviously, I will be stoked to hitting the balls in the same range as Woods. But again, you can't really be thinking too big of your opponents. You just have to go and perform and I just want to do that.

"I always wanted to play my first Major, and the Open is my favourite Major. I could not have been happier playing my first Major at the Open."

He may have been the youngest Indian to win on the European Tour but Sharma prefers to stay grounded as he looks to make a mark at the oldest of the four Majors slated to be held at Carnoustie in July.

"In India's perspective it's come really early but there have been people who have played Majors when they were 18-19, and won at 21," he said.

"I just want to look at it in that perspective. Obviously, I have done it but there are people who have done this before me. So I don't have to really feel big about that."

Among the Indians, he follows Jeev Milkha Singh and Arjun Atwal, SSP Chawrasia and Anirban Lahiri.

Son of an Army man, Sharma said staying calm was his biggest asset as he bounced back to win the Tour Championship in a thrilling finish on Sunday.

"I was really calm the whole day. Despite being behind I never let the pressure build on myself. I was a bit upset after missing a three-footer for birdie on the ninth but bounced back well with some good shots on the back-nine," he said.

"It's about staying calm like you do in practice. All good players do that. I've been really calm on the course for the past one month and that has made a huge difference to my game.

"I do a bit of meditation that I learnt from my mother. Dad virtually accompanies me on every tour. They are the reason why I am here today."