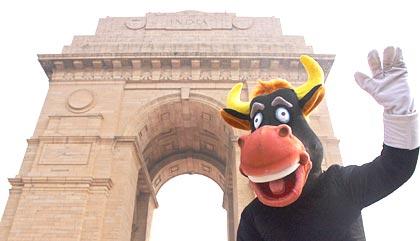 'Bravo', the Indian bison also known as Gaur, which has been chosen as the mascot for the forthcoming World Military Games 2007, waves in front of India Gate, in New Delhi, on Friday.
It will now travel to Hyderabad and Mumbai to spearhead the massive festivities and arrangements associated with mega world sporting event.
The fourth edition of the Games will be held in Hyderabad from October 14 to 21. Except sailing and triathlon, which will be conducted in Mumbai, 13 other disciplines will be held at the Gachibowli Swarnandhra Pradesh Sports Complex .
This is the first time the event is being staged in Asia.
India is likely to field a contingent that includes 15 medal winners at the just-concluded Doha Asian Games.

Fifteen disciplines will feature at the WMG, being held under the banner of 'Friendship Through Sports'. These include athletics, swimming, shooting, hockey and sailing, and also a military-specific parachuting competition.
The Military World Games (MWG) are conducted under the aegis of the International Military Sports Council, with a present membership of 127 countries from Europe, Asia, Africa and America, and recognised by the International Olympic Committee.
PHOTOGRAPH: Prakash Singh/AFP/Getty Images.