It was a felicitation function meant to honour him but Haryana Chief Minister Bhupinder Singh Hooda created quite a flutter by taking a jibe at star boxer Vijender Singh's "under-performance" at last month's Olympics in London.
At a function organised by Haryana police to honour its seven sportspersons for their performance at the London Games here, Hooda took a potshot at Vijender who was sitting among the players who were honoured.
"No doubt Vijender is an excellent boxer...but you (Vijender) stop taking tours (other than boxing) to perform much better," Hooda said pointing to the strapping six-footer during his speech.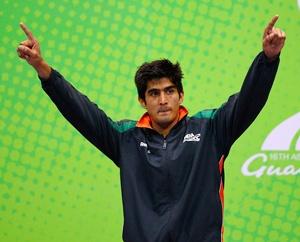 Hooda was apparently referring to Vijender's stint in television shows and modelling assignments.
"Tu tour laganey band kar de (you stop taking tours)," Hooda said.
Vijender, the 2008 Beijing Olympics bronze-medallist, who lost in the quarterfinals in the London edition, made light of the comment saying, "He should tell me which tours he is talking about."
"It was just friendly banter," the former World No. 1 middleweight boxer said.
During the function Hooda announced that Jai Bhagwan (boxer) and Seema Antil (discuss thrower) would be promoted to Inspectors in Haryana Police.
However, another puglist Manoj Kumar from Rajaund in Kaithal from the state was conspicious by his absence. Sumit Sangwan (Boxer) and Krishna Poonia too were not present during the function.
Among the sportspersons honoured were Olympic bronze medallist wrestler Yogeshwar Dutt, hockey players Sardar Singh and Sandeep Singh, Seema Antil (Discuss), Vikas Krishan (Boxing).
Later Indian National Lok Dal (INLD) General Secretary Ajay Chautala told reporters that "Hooda instead of giving suggestions to others (like to boxer Vijender) should concentrate on Haryana as a state."
He also lambasted at Hooda for "bias" in honouring the players from the state.
Chautala said that it was only one sportsperson Yogeshwar Dutt from Haryana who had won the medal not only for the country but for the state. Rest five other medal winners in London games do not belong to Haryana.
"The other medal winners (out of whom Haryana claims that four belongs to it) have never represented Haryana at any level in any sporting event," he said.
"Hooda is resorting to pick and choose policy in honouring players from the state," Chautala rued.
Earlier during the function, Dutt was announced to be presented with Rs 51 lakh and the other players Rs 11 lakhs each.
Photograph: Feng Li/ Getty Images