Shooter Jin Jong-oh survived a mid-final wobble to claim victory in the men's 10 metre air pistol on Saturday to give South Korea their first gold medal of the London Olympics.
Jin finished with a score of 688.2 after his 10 shots in the eight-man final with Italy's Luca Tesconi winning silver with 685.8 and Serbia's Andrija Zlatic taking bronze on 685.2.
- London Olympics 2012 - Complete coverage
The South Korean threw both fists into the air after his victory which he seemed to be coasting to after five rounds when he held a 4.4 points advantage.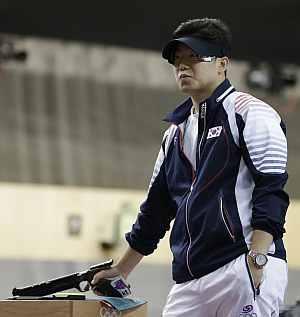 But the Korean, who won gold in the Beijing Games at the 50 metre pistol, then opened the door to his opponents as he struggled, scoring four consecutive nines with Tesconi cutting the advantage to 1.3 before the final shot.
- Vijay Kumar fails to qualify
But the 32-year-old Jin held his nerve and saved his best for last by firing a 10.8 to take gold to go with his silver in the discipline four years ago.
Tesconi could only manage a 9.7 with his final shot but he celebrated like he had won gold after securing a surprise silver after the 30-year-old started the final sixth.
China's defending champion Pang Wei finished in a disappointing fourth after some erratic shooting which brought five nines and a number of groans from the supporters.
India's Vijay Kumar failed to make it to the final after finishing a lowly 31st.
Vijay tallied 570 after a sequence of 94, 95, 94, 97, 97, 93.
He now has to wait till August 2, when he competes in his pet event -- 25m Rapid Fire Pistol, to see if he can win a medal at the Games.
Photograph: AP Photo/Rebecca Blackwel