Having fashioned India's entry into the London Olympics with a stupendous performance in the Delhi qualifier, ace drag-flicker Sandeep Singh feels a tough group in the upcoming Games will only motivate the team to play with positive intent.
India is placed alongside former Olympic champions Germany, the Netherlands, Korea, New Zealand and Belgium, but Sandeep said the strong line-up will not be a deterrent for the eight-time champions.
"India has been placed in Group 'B' with strong contenders, but this has further motivated and increased the confidence of the players. It has been seen that upsets do take place in the stronger group," said Sandeep, who scored in five goals against France in the final of the qualifying tournament in Delhi last month.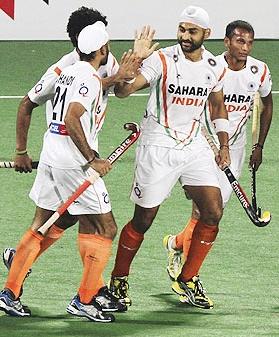 The Haryana lad scored 16 goals in the tournament to gain India a place in the London Olympics.
"The performance of the team in the qualifying tournament has bolstered the hope that the team would put up a good show in the Olympics," said  Sandeep, on the sidelines of a felicitation ceremony in Lucknow on Wednesday.
He exuded confidence in his team, saying the players will try to dominate their opponents by continuing to play an aggressive brand of hockey.
The primary target of the team, he added, is a place in the semi-finals.
Hailing head coach Michael Nobbs for instilling a fresh lease of life into Indian hockey, Sandeep said, "He has brought aggression in the players and taught them how to use it against the opponents.
"According to Nobbs, attack is the best form of defence."
The 26-year-old added that the team is playing like a unit and all the members are encouraging each other.
"All the players are motivated enough to unfurl the Indian tri-colour at the hockey turf in the Olympics," he concluded.