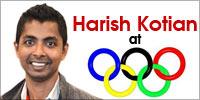 Indian shooting continues to grow and make the country proud at the Olympics. It started with Rajyavardhan Singh Rathore's silver medal at the 2004 Olympic Games; then Abhinav Bindra won gold four years later as the sport continued to make giant strides.
At the ongoing Games in London, too, India's shooters underlined their credentials by bagging two medals. Vijay Kumar won the silver in the men's 25-metre Rapid Fire pistol and Gagan Narang the bronze in the 10-metre Air Rifle.
While the shooters continue to hog the limelight, one man quietly sits behind the scenes, carrying on with the job he's being doing for nearly early two decades.
National shooting coach Sunny Thomas has been honing the skills of India's shooters for 19 years now and is largely responsible for India's emergence as a potent force in the sport. The 71-year-old will step down after the London Games.
In an exclusive interview with Harish Kotian in London, Thomas discusses what Indian shooters' success means to him and why he is quitting despite his wards consistently winning medals at the international stage.
This must be a proud moment for you, because India has already won two medals in shooting at the London Olympics.
It is not like that, and I don't take all the credit for all this. We have got some very talented shooters and they have done really well at the international level. The government has also been kind enough to give us every possible support. The National Rifle Association of India (NRAI) has also done its best to help the support and their approach has been very positive, which is resulting in so much for the sport. All the coaching staff has also worked hard on the shooters. So I believe we are reaping the fruits for our hard work over the years, but there is still a long way to go.
So why are you quitting as national shooting coach after the Games?
I have been working as the national coach for the last 19 years and it is a sin to keep working like this without giving others any opportunity. Previously, I wanted to quit four times, but nobody allowed me. When we won the silver medal [Rajyavardhan Rathore at the 2004 Olympic Games in Athens] they didn't allow me, and the same thing happened after [Abhinav] Bindra won the gold medal at the 2008 Beijing Olympics. They told me they wanted me to stay till the 2010 Commonwealth Games in New Delhi, but they didn't let me go after that also.
But, this time, I am quitting, definitely! My contract will get over after the Olympic Games and I don't want to take up it again and will resign from my post as the national coach of shooting.
Let the younger generation handle it, because we want someone younger and stronger at the helm now. I belong to the old generation, I feel.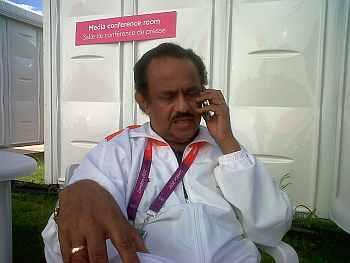 You may belong to the older generation, but the medal trend started under your tenure. Whatever success we have achieved today in shooting at the world level and at the Olympics is all due to your hard work and vision. There must be the temptation to stay for a couple of years more and enjoy the success. Isn't it?
I have put a system in place and it is not going to be a difficult task for anyone who comes in. When I started there was no system in place, but we have made a system which is transparent, which is answerable. If people are sincere and faithful, then they will be capable of handling the job. They will have a chance to improve the system, too, which will be great for Indian shooting in future years.
The foundation has already been laid because we have been winning medals in the last three Olympics, which means we are moving in the right direction. It also proves the approach of the National Rifle Association of India (NRAI) has been correct.
I want to add that I may resign as the national coach but I won't give up on shooting. I will continue in the field of shooting in some way or the other because that has become part of my blood.
You have been the national shooting coach for nearly two decades. How much has your role changed since you started in 1993.  The sport has undergone a huge transformation in India in the last 7-8 years?
We have been improving gradually. Take the case of the last three Commonwealth Games. In Melbourne, we had 27 medals, and in Delhi in 2010, we had 30 medals in shooting alone; so, from then on, the Indian people began to notice us.
When Abhinav Bindra won the gold medal [at the Beijing Olympics in 2008], it was a surprise for many people, because nobody knew much about shooting till then. He was the junior World champion and also the senior World champion before that, but nobody noticed it. So when he became the Olympic champion it was a great surprise for everyone. And when we won 30 medals in shooting in Delhi people started acknowledging us, noting us and accepting us. So it has been a gradual growth, but a continuous one.
I am not proud or anything like that; I believe our shooters are talented and progressing in the right direction.
Was Rajyavardhan Singh Rathore's silver medal at the 2004 Olympic Games in Athens the turning point for Indian shooting?
Yes, I agree. That made a great change for the sport in India. Rathore won the individual silver medal, which was the first for India after a long wait of nearly 100 years. That was the beginning, because he gave us the confidence. Before that there was the inferiority complex that Indians cannot do it, but he gave us the confidence that Indians can do it.
Then Abhinav Bindra won the gold medal in 2008 and we won two other medals in boxing [Vijender Singh] and wrestling [Sushil Kumar]. The belief spread to the other athletes who also got confident in their events. This time, too, the shooters have already won two medals so far and I am hopeful that we can get more medals in shooting alone. But there are so many other events where I feel we are capable of doing well and winning medals.
How was the mood in the Indian shooting camp before coming to London? This time many of them came here as medal favourites, unlike last time when they were underdogs?
The talent was always there, but people began us to notice us only recently because we started winning at international competitions. We have always been working hard over the years, whether we get attention or not or, whether we have sponsors or not. But now we are getting the people's attention, the sponsors are also coming in and the government and the NRAI are also backing us fully.
We had 11 shooters who qualified for the London Olympics and two of them have already won medals, and one [Jaideep Karmarkar] was unlucky to miss the medal.
As you get ready to quit, you believe that you are leaving Indian shooting in good shape?
Yes, I believe that shooting in India is in good shape. There is no question of being worried because the success will continue and the sport will continue to grow. We have the confidence now and we will continue to improve. Whether I am there or not, it will make absolutely no difference, because our current shooters are capable of beating the best in the world.
Will you also be doing something to raise the profile of shooting in your state, Kerala?
Definitely, I will be looking to do something for shooting in Kerala. People are actually finding fault with me that you are winning medals for India, but not doing anything for shooting in Kerala. Now I will have time to do something for the sport in Kerala.
Photograph: Harish Kotian/Rediff.com