India's medal hope in shooting Ronjan Sodhi failed to qualify for the finals of the men's double trap event at the Olympics on Thursday.
The former world No 1 from Ferozepur fired 134 out of 150 to finish a shocking 11th out of 24 competitors In the qualifying rounds and crashed out of the competition.
- London Olympics 2012 - Complete coverage
The top six shooters moved into the finals, to be held later on Thursday.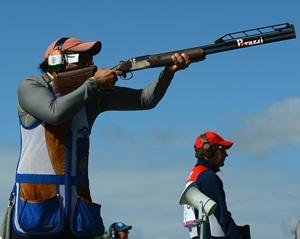 Sodhi, who won the gold in the 2010 Asian Games at Guangzhou, started encouragingly, scoring 48 out of 50 in the first round before he began misfiring and logged a poor 44 and 42 in the next two rounds that dashed his hopes.
Meanwhile, pistol shooter Vijay Kumar placed fifth in the first round of the qualifiers in the men's 25m Rapid Fire Pistol and remained in contention to make the finals.
 He accumulated a total of 293 points with 7 inner 10s in the first stage for an average score of 9.767.
The second stage will take place on Friday.
With a total of 134, Sodhi finished nine points behind the leader, Peter Wilson of Great Britain, who is currently the world No 1.
The other five shooters who qualified for the final were Vasily Mosin of Russia, Fehaid Aldeehani of Kuwait, Russia's Vitaly Fokeev, Sweden's Hakan Dahlby and Richard Bognar of Hungary.
Expectations were high from the 32-year-old Sodhi after his exploits at the international level over the last few years when he became world No. 1 and also went on to win the 2010 and 2011 World Cups Finals at Izmir (Turkey) and Ai Ain (UEA) respectively.
A shell-shocked Ronjan Sodhi was all at sea while trying to find out a reason why he could not even make it to the final of the men's double trap event at the London Olympics.
Sodhi was touted as one of India's biggest medal hopes, but he finished 11th with a dismal score of 134 out of 150.
"I just don't know what happened," a shocked Sodhi told reporters after his qualification round got over.
The world No. 10 admitted that this was easily his worst performance in the international arena in the last few years.
"I have never shot so badly. I have not dropped so many shots in the last round. But I guess there was some technical problem, which I need to analyse."
It seemed Sodhi was trying hard to come to terms with the fact that his Olympic dreams has been badly crushed but he did not fully agree with the fact that his performance was related to stage fright that top Indian athletes have suffered over the years during their participation at the quadrennial extravaganza.
"People talk about pressure in the Olympics, but I did well in the first round. If I had continued in the same manner, I could have made the finals," lamented Sodhi.
"Till the last three or four shots I thought I would be able to make the cut. It is a bit disappointing as I trained hard and was hoping to do well," he added.
Results:
Men's 25m Rapid Fire Pistol
Qualification (Stage 1)
1. Alexei Klimov, Russia, 294.
2. Leuris Pupo, Cuba, 293.
3. Ding Feng, China, 293.
4. Martin Podhrasky, Czech Republic, 293.
5. Vijay Kumar, India, 293.
6. Zhang Jian, China, 293.
7. Emil Milev, United States, 292.
8. Christian Reitz, Germany, 292.
9. Jakkrit Panichpatikum, Thailand, 291.
10. Kim Daeyoong, South Korea, 290.
11. Afanasijs Kuzmins, Latvia, 289.
12. Leonid Ekimov, Russia, 289.
13. Jorge Llames, Spain, 288.
14. Keith Sanderson, United States, 288.
15. Ralf Schumann, Germany, 287.
16. Martin Strnad, Czech Republic, 287.
17. Roman Bondaruk, Ukraine, 284.
18. David J Chapman, Australia, 278.
Men's Double Trap
Qualification
1. Peter Robert Russell Wilson, Britain, 143 (Q).
2. Vasily Mosin, Russia, 140 (Q).
3. Fehaid Aldeehani, Kuwait, 140 (Q).
4. Vitaly Fokeev, Russia, 139 (Q).
5. Hakan Dahlby, Sweden, 137 (Q).
6. Richard Bognar, Hungary, 137 (Q).
7. Rashid Al-Athba, Qatar, 136.
8. Francesco D Aniello, Italy, 136.
9. William Chetcuti, Malta, 135.
10. Li Jun, China, 134.
11. Ronjan Sodhi, India, 134.
12. Richard Faulds, Britain, 133.
13. Juma Almaktoum, United Arab Emirates, 133.
14. Hu Binyuan, China, 133.
15. Alistair Davis, South Africa, 132.
16. Joshua Richmond, United States, 131.
17. Filipe Fuzaro, Brazil, 131.
18. Daniele di Spigno, Italy, 131.
19. Ahmed Al Hatmi, Oman, 129.
20. Russell Mark, Australia, 128.
21. Jose Torres Laboy, Puerto Rico, 127.
22. Walton Eller, United States, 126.
23. Anton Glasnovic, Croatia, 114.
NR. Sergio Pinero, Dominican Republic, DNS.
Photograph: Lars Baron/Getty Images