New Zealand made the best of defensive lapses to beat India 3-1 in the men's Olympics hockey tournament at the Riverbank Arena on Wednesday.
Sandeep Singh's second minute penalty-corner conversion put India ahead, but the 'Black Sticks' hit back with vengeance to score thrice in the first session through Andrew Hayward (12th minute), Phillip Burrows (24th) and Nicholas Wilson (29th) and leave the Indians shattered.
- London Olympics 2012 - Complete coverage
India pressed hard in the second half, frequently breaking into the New Zealand circle, but were unable to find the net.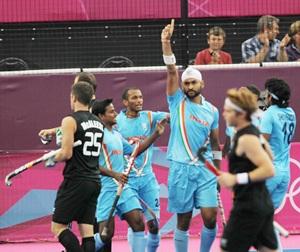 New Zealand, winners of the Azlan Shah Cup in Ipoh, Malaysia, two months ago, lost their opening match 0-2 to South Korea, while India suffered a 2-3 reverse against The Netherlands, who now lead Group B with six points from two matches after a 3-1 victory over Belgium earlier on Wednesday.
In another match, in Group B, Australia trounced Spain 5-0.
New Zealand, who had beaten India 5-1 in their last meeting in the Azlan Shah Cup, were in for an early surprise when Sandeep Singh scored from a penalty-corner in the second minute, but they recovered magnificently, forcing their first first-penalty corner in the third minute. Simon Child's deflection from Andrew Hayward's shot rebounded off the horizontal.
They pressed hard and drew level in the 12th minute when a shaky Indian defence conceded a soft penalty-corner that was converted by Hayward, who sent a shoulder high drag-flick past goalkeeper Bharat Chetri.
Soon after S V Sunil's deflection off a cross from S K Uthappa went wide past the post.
The Indian goal again came under pressure again in the 22nd minute when Sardar Singh found himself defending against three New Zealand strikers, but managed to hold his ground.
New Zealand went ahead in the 24th minute from a penalty-stroke, which resulted when a penalty-corner shot by Hayward struck Ignace Tirkey's body on the goalline.
The stroke was converted by Phillip Burrows, who placed the ball to the right of goalkeeper Chetri.
India then mounted two raids that saw Tushar Khandekar's shot from the
left in the 27th minute sail across the goalmouth as Dharamvir Singh failed to connect.
Just as India were trying to push ahead, another defensive lapse saw New Zealand score their third goal in the 29th minute.
A faulty clearance presented the ball to Shea McAleese and his back-pass allowed Nicholas Wilson to flick past goalkeeper Chetri, who was replaced by P R Sreejesh at half-time.
India played a better game in the second session and had a period of sustained pressure, but failed to pose a threat to the New Zealand goal.
The Indian forwards repeated broke into the circle, but gave the ball away, not even managing to earn a penalty-corner.
At the other end, Indian goalkeeper Sreejesh came out to effect a fine save with all other defenders beaten on a breakaway move.
India eventually forced two successive penalty-corners in the 57th minute, but Sandeep was not able to beat the Black Sticks' defence.
Sreejesh then did well to stop a low penalty-corner and padded away a diagonal shot taken on a counter.
The only time India came close to scoring again was off their fourth penalty-corner in the 66th minute, but V R Raghunath's shot ricocheted off the right post.
Photograph: Mohammad Shamsuddin/Snapsindia