Parupalli Kashyap scored a dominating straight games victory over Vietnam's Tien Minh Nguyen in the men's singles to join compatriot Saina Nehwal in the knock-out stage of the badminton competition at the Olympics on Tuesday.
- London Olympics 2012 - Complete coverage
The 21-ranked Kashyap outplayed his opponent, ranked 11 places above him, winning?the second and final Group D men's singles match 21-9, 21-14, in 35 minutes.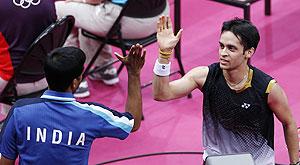 By virtue of the?victory, Kashyap finished on top of Group D, having beaten Belgium's Tan Yuhan in an earlier game.
Saina, ranked fifth in the world, too had little difficulty in disposing off the challenge of Belgium's Lianne Tan 21-4, 21-14 in a Group E women's singles match on Monday night.
Playing against a higher-ranked opponent, Kashyap was aggressive from the word go and never let the Vietnamese shuttler settle down.
The Indian ace set up the points beautifully by opening the court and executing winners with ease.
The match featured long rallies with both the players playing some fierce flat shots, but it was the Indian who scored consistently.
Minh tried to claw his way back in the second game but Kasyhap never let the momentum slip and clinched the issue with a cross-court smash to the left of Nguyen.
As expected, Kashyap was delighted with the easy win but rued that his father could not be there to see him dominate the match.
"I expected to win but not that easily. Not that it was an easy game -- we had some long rallies and when he gets into his rhythm he can be very dangerous," Kashyap said.
"My dad did not get a UK visa in time. I don't know what's going on with the British Embassy. I feel really bad. I really wanted him to be here to see me play, especially in a match like this -- to see me beat a player like this. I really hope that he'll get here tomorrow."
Tuesday's results from?the badminton event:
Men's singles
Group D
Kashyap Parupalli (India) bt Tien Minh Nguyen (Vietnam) 21-9, 21-14.
Group O
Taufik Hidayat (Indonesia) bt Pablo Abian (Spain) 22-20, 21-11.
Women's singles
Group D
Juan Gu (Singapore) bt Victoria Na (Australia) 21-10, 21-7.
Group K
Tai Tzu Ying (Taiwan) bt Victoria Montero (Mexico) 21-6, 21-10.
Doubles
Group C
Mathias Boe and Carsten Mogensen (Denmark) bt Chai Biao and Guo Zhendong (China) 21-14, 21-19.
Group A
Valeria Sorokina and Nina Vislova (Russia) bt Alex Bruce and Michele Li, Canada, 21-8, 21-10.
Group D
Kamilla Rytter Juhl and Christinna Pedersen (Denmark) bt Tian Qing and Zhao Yunlei (China) 22-20, 21-12.
Mixed Doubles
Group C
Lee Yong Dae and Ha Jung Eun (South Korea) bt Diju V and Jwala Gutta (India) 21-15, 21-15.
Group D
Sudket Prapakamol and Saralee Thoungthongkam (Thailand) bt Peng Soon Chan and Liu Ying Goh (Malaysia) 21-16, 21-15.
Image: Kashyap gets a high-five from coach Pulela Gopichand
Photograph: Bazuki Muhammad / Reuters